18 Best Perennials to Grow in New York
We bought about seven acres of land back in 2019. As we expand our gardens, I've been trying to determine the best perennials to grow in New York. So what does an adult woman who isn't quite sure how to do something do? Call her parents! Thankfully, my wonderful step mom has a ton of experience in this department. She has some of the most beautiful gardens I've ever seen (just one of many pictured below). She gave me some great advice on perennials, and with a little help from my dad as well – this list was created.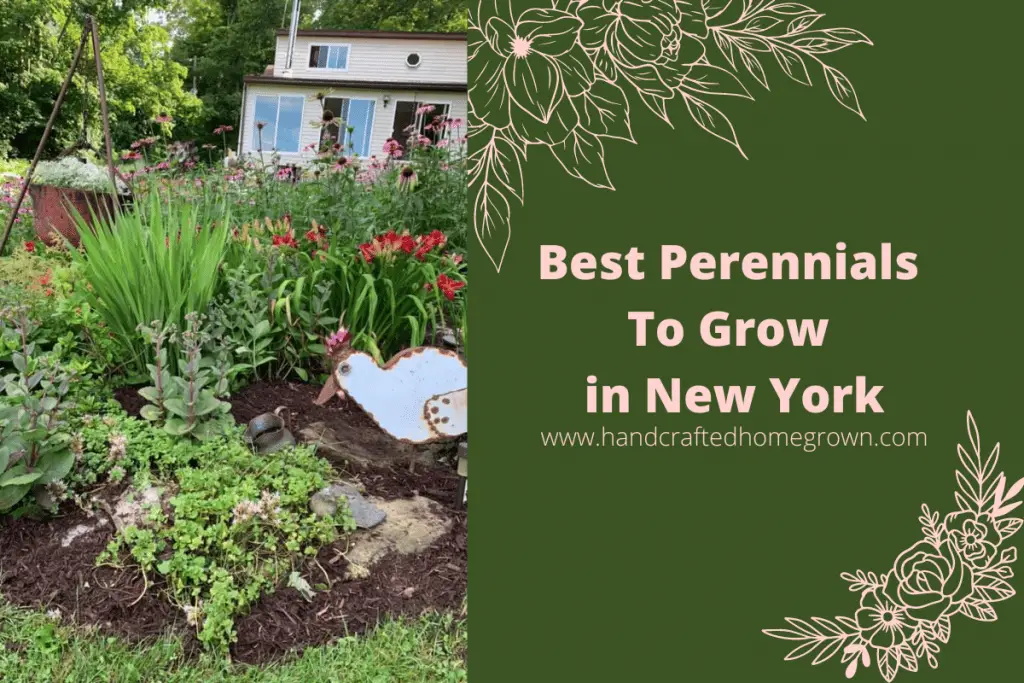 This site is a participant in the Amazon Associates program, as well as other affiliate programs. As an Amazon Associate, I earn from qualifying purchases. This post may contain some affiliate links for your convenience.
Use the table below for the full list of the best perennials to grow in New York, you can skip to a specific plant if you choose or scroll through them all.
Astilbe
Bee Balm
Black Eyed Susan

Butterfly Bush
Chives
Clematis
Coneflowers
Gladiolus
Hosta
Iris
Lavender
Lilies
Lupines
Mums
Peonies
Poppies
Roses
Sedum
Why Are Perennials Great?!
Perennials are great for your garden in New York or wherever you live because they come back each year. Often, they are also spreaders, so they can fill empty spaces of land. This is great for pollinators and butterflies. Helping pollinators and butterflies are important to me, so I am enjoying adding more and more perennials to my yard/garden each year. In addition, they are generally low maintenance – which is also super important to me. As a working mom of little kids, I don't often have the time and energy I'd like to have to deal with anything high maintenance.
Lastly, they are great for your garden because they have beautiful flowers, in a variety of colors. This can take a drab looking area and making it look great each summer with very little effort!
Finding Your Zone
When choosing a plant for your garden, its first important to know your zone. This zone is used to determine what plants will do well in your area. You can go to this website and put in your zip code for your specific zone. In New York, the zones range from 3a to 7b. I will list the zones for each suggestion, but because New York has such a variety of zones, its important to know exactly where you fall.
Wrap Up of the Best Perennials to Grow in New York
I hope this article on Best Perennials to Grow in New York was helpful! If you liked this post, it would mean a lot if you would follow me on Facebook, Pinterest or Instagram. If you use #handcraftedhomegrown on Instagram, I'll be watching! 🙂