Best Plants to Grow in the Shade in New York
When we bought our house in Central New York, there was a lot of open space. We've spent a lot of time figuring out how to fill up the sunny bits. But now, its time for us to figure out the best plants to grow in the shade in New York to start working on the less sunny bits! Here's a list of plants I've compiled that grown in the shade and in the growing zones that are covered in New York.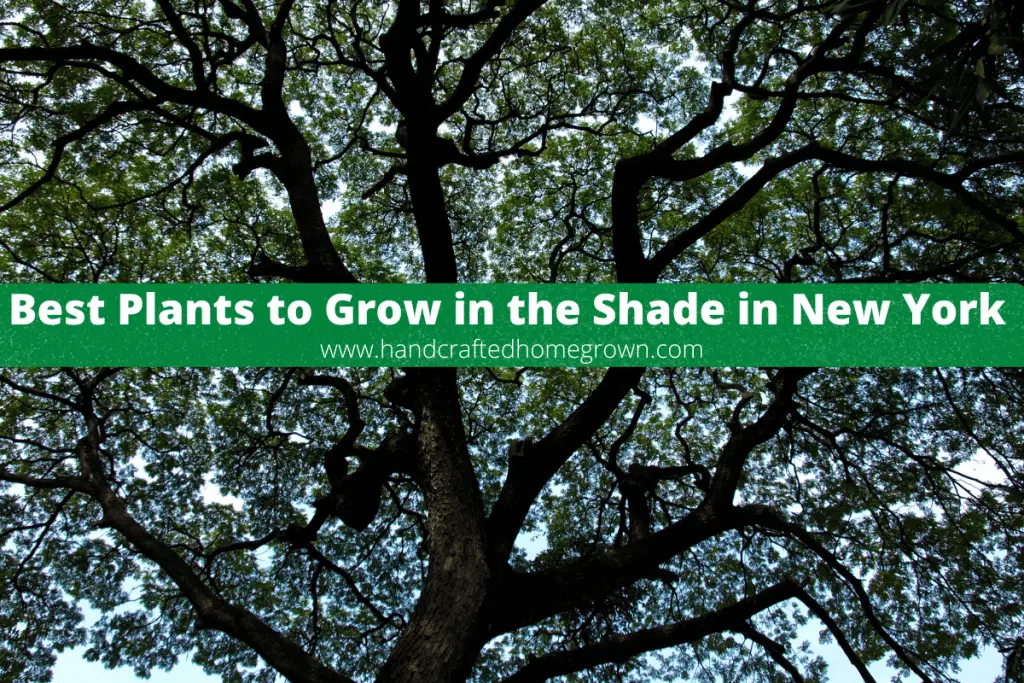 This site is a participant in the Amazon Associates program, as well as other affiliate programs. As an Amazon Associate, I earn from qualifying purchases. This post may contain some affiliate links for your convenience.
Always Double Check the Specifics of the Plant You are Buying (Zones, Growing Conditions, etc.!). There are many different verities of every kind of plant, which could have different requirements than what is listed below.
How to Find your Growing Zone
In New York, the growing zones range from 3a to 7b, so you'll want to know your specific growing zone when figuring out what you should plant in your area. The easiest way I've found to do this, is by going to this website and putting in your zip code to get your zone. But there are plenty of other sites and maps that will do the job. Just give it a Google. We land right in zone 6!
If you fall into Zone 3 (some portions of Northern New York), some of these plants might not do well. I do list suggested zones for each plant. However, you should research and you might be able to find a variety of that plant that works for you!
Astilbe
Begonia
Bleeding Hearts
Caladium
Fern
If you like this article, also check out: 18 Best Perennials to Grow in New York
Foxglove
Hostas
Hydrangea
Impatiens
Lenten Rose
Primrose
Rhododendrons
Toad Lilies
What is Partial Shade vs. Full Shade
Over the years, as I've been researching the best plants to grow in the shade in New York, I've realized that plants are grouped into one of four categories regarding light. Full shade, partial shade, partial sun, full sun. Some people do use partial shade and partial sun interchangeably as they are quite similar. I created the chart below Hopefully it will help someone else out there.
Plants that require full shade still need some light, which was not really what I was expecting. It does make sense though. Plants still need a bit of light to germinate and then do all the planty (technical term) things they need to do. For those that don't love full sun, its always best if they can get their sun light from the non-peak sun hours (typically around 10-4). So early morning/evening sun is preferred for plants that don't like full sun.
Keep in mind, this is from my own research, and it is always best to look up the requirements of the specific plants you're growing to determine what their specific needs are.
| | Hours of Sun | Comments |
| --- | --- | --- |
| Full Shade | 4 | Most plants (except mushrooms) still need light. 4ish hours of morning/evening sun preferred |
| Partial Shade | 4-6 | Preferably morning/evening sun, plants requiring partial shade need breaks from the hot sun |
| Partial Sun | 3-6 | Preferably morning/evening sun |
| Full Sun | 6+ | Unobstructed direct sunlight |
Wrap Up
I hope this article helps you out. Again, you should always research the specific plants you're working with. With so many varieties of plants now, you shouldn't assume anything. But this should give you a great starting place to research.
If you liked this post, it would mean a lot if you would follow me on Facebook, Pinterest or Instagram. Use #handcraftedhomegrown on Instagram, I'll be watching! 🙂
If you think I missed anything, comment below or reach out to me on Facebook or Instagram – I would love to hear from you!