Zucchini Brownies Recipe (from boxed mix)
Did you know you can make Zucchini Brownies using boxed mix? Well, you can – should you? Maybe! Let's talk about that!
Anyone growing zucchini has thought to themselves – can I add zucchini to that? Over the weekend, I really wanted some brownies and grabbed a box of mix from the store. I then saw the few zucchinis left sitting on the counter and guilt tugged at me. I decided to make zucchini brownies, the quick way – using boxed brownie mix.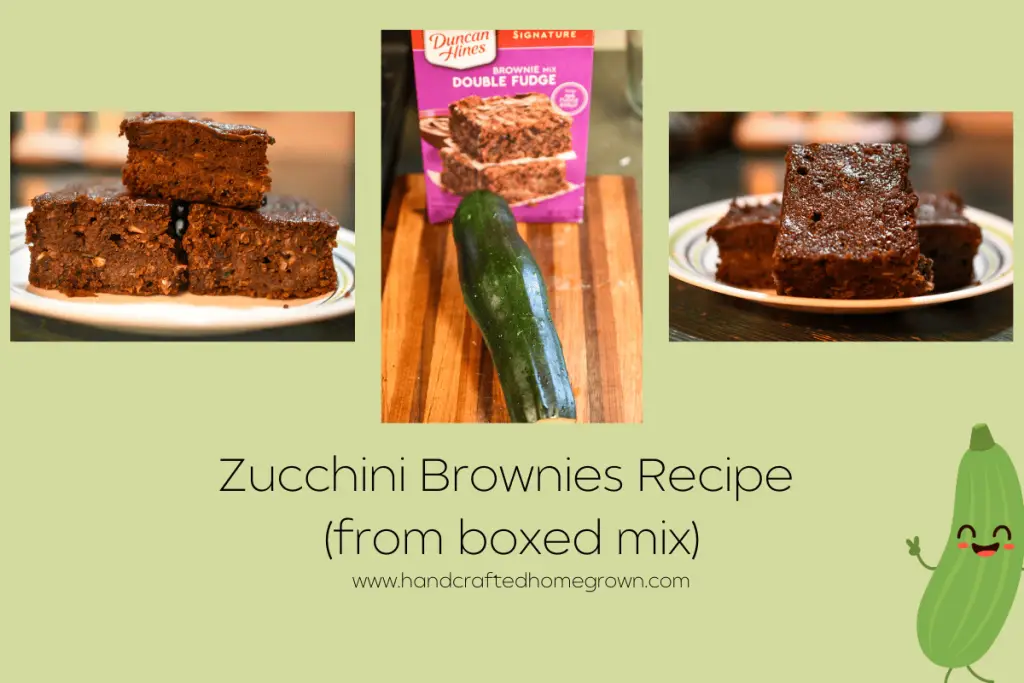 This site is a participant in the Amazon Associates program, as well as other affiliate programs. As an Amazon Associate, I earn from qualifying purchases. This post may contain some affiliate links for your convenience.
Ingredients
This one is short and sweet:
Boxed brownie mix and all ingredients required by the box (typically eggs, vegetable oil and water)
Grated Zucchini, up to 1.5 cups, drained. Leave in a strainer or on paper towels for 20 minutes or so to allow excess water to drain off. I have used both fresh and frozen shredded zucchini and both work well.
How to Make Zucchini Brownies from Mix
Wash, cut off the ends of the zucchini and shred a medium zucchini with a grater, place in a strainer or on paper towels and allow to drain. I think the more water you get out of the zucchini the better the result.
Prepare box mix according to the directions in a medium mixing bowl.
Fold in the zucchini gently into the brownie batter – I have used up to two cups. However, I prefer using 1.5 cups, as my 5-year-old who "hates" zucchini says he can't see it when I use 1.5 cups and will actually eat it.
Optional – add chocolate chips to the top – yum!
Bake according to package directions. Depending on the moisture content of the zucchini you may need to add a few minutes to the cook time. Cook according to the normal time, test with a toothpick and add 2-3 minutes at a time. With slightly drained zucchini in a 9×9 pain, I found I need 5-7 extra minutes and with well drained zucchini in a 9×13 pan I didn't need any additional time. You'll have to pay attention and work this out for yourself based on the variables.
What Size Pan?
I have made this recipe in two size pans – 9×13 and 8×8. Both were good, but I prefer the 9×13.
In the 8×8 the result was a very fudgy, moist brownie. What do I love about a brownie? The crispy top and edges…which were missing. The 9×13 gives you a little more of those crispy edges which is my favorite part of eating a brownie. This is also why I think getting as much moisture out of the zucchini is better, to help let the brownies crisp up.
Best Way to Shred or Grate Zucchini
I have tried three different methods of shredding zucchini, and when it is all said and done, I prefer the cheese grater as my first option and the food processor would be my second option.
Cheese Grater – my preferred method. I use a basic cheese grater, like this one on Amazon. I was the zucchini, cut the ends off, sit at the kitchen table and get to work. It goes pretty quick, I like the consistency and the cleanup.
Kitchen Aid Shredding attachment. I've used this one (see here on Amazon) – it is fine, but not my favorite. The Zucchini comes out a bit mushy and the seeds just slide through. I do feel like when I'm grating manually the seeds get mixed in a little better. However, the zucchini shredded this way works just fine. This works great in these brownies, bread, muffins, etc. We have hard water, and I don't like putting the parts in the dishwasher, so that is the biggest deterrent for me!
Food Processor. Similar to the KitchenAid attachment, it works fine, but I don't enjoy the cleanup due to not wanting to put the items in the dishwasher due to our hardwater. I do love the food processor I have that I bought back in 2015 Amazon, and if I wasn't doing it manually, I would choose this option over the KitchenAid personally, I just feel its quicker and I have a bit more control over the consistency. I also find the cleanup easier!
Fresh or Frozen Zucchini?
I have used both fresh and frozen zucchini in this recipe. There is no major difference between the two. To freeze the zucchini, I shred it either using my cheese grater or food processor (more details above) and let it strain in a colander for about 20 minutes. Then I put between 1.5-2 cups into Ziplock freezer bags. I lay the bags flat and stack them in the freezer. These are perfect for making bread, muffins and adding to these brownies!
Best Way to Mix Zucchini Brownies
Making these brownies, I've used just a spoon and a bowl and my kitchen aid with paddle attachment. Honestly, both works fine. I typically use bowl and a spoon because that is what my 3-year-old enjoys! Either way works completely fine.
How to Store Zucchini Brownies?
Let the brownies cool completely, and then put into an airtight container. If you're planning on eating within a couple days, leaving at room temperature is fine. I've stored them in the fridge up to a week. However, our fridge space is usually limited so I usually leave on the counter.
Will I Make These Again?
I have made these once a summer for the last three summers when the zucchini is in abundance. What I like about this is the kids enjoy making them and my 3-year-old declared "she loved zucchini".
While it was a tasty treat, and none went to waste – I won't be making it again when I'm specifically craving a crunchy brownie. But it was a quick and easy way to use up a zucchini and a very yummy treat the kids really enjoyed. I will definitely make them again next year when the zucchinis are in abundance!
What's Next?
Love zucchini? Check out my Sourdough Zucchini Recipe!
I would love for you to follow me on Pinterest, Facebook or Instagram. Use #handcraftedhomegrown.