KitchenAid Pudding Ice Cream
I have had pistachio ice cream on the brain. So tonight, I used my KitchenAid to make Pistachio Pudding Ice Cream. You could use this same method using any flavor of instant pudding with your ice cream maker!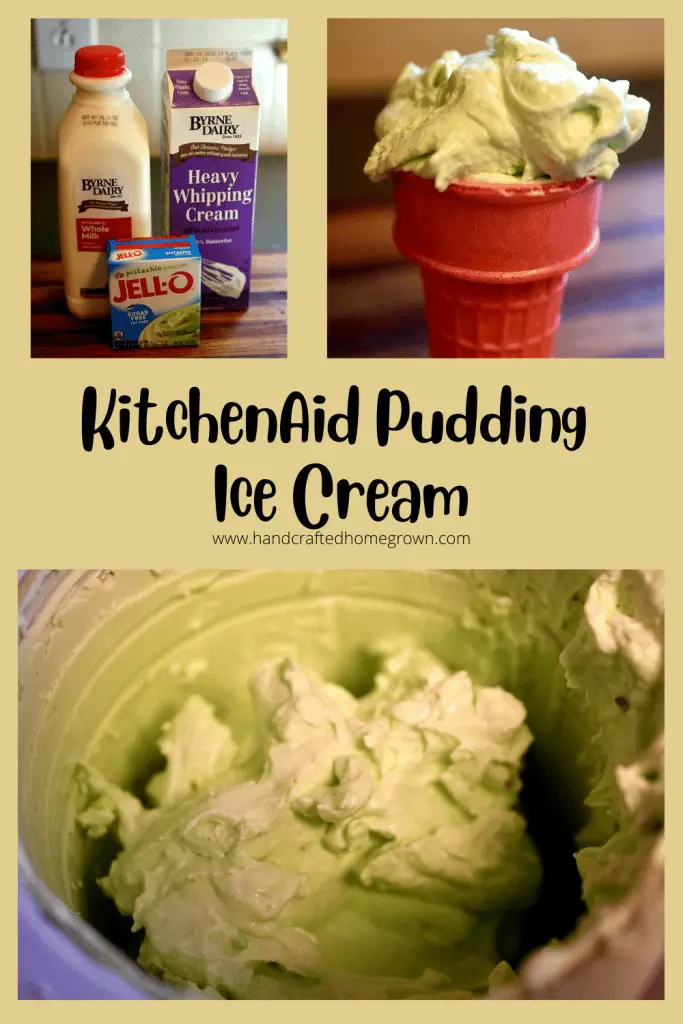 This site is a participant in the Amazon Associates program, as well as other affiliate programs. As an Amazon Associate, I earn from qualifying purchases. This post may contain some affiliate links for your convenience.
Ingredients & Equipment
This doesn't require a ton of specialized equipment. The main thing you'll need is an ice cream maker to churn the mixture. I used my KitchenAid mixing bowl to whisk together the mixture and my KitchenAid ice cream maker attachment (see on Amazon here)
As for ingredients, you'll need heavy cream, whole mix, and pudding mix. I used sugar-free pistachio because that is what I had on hand. But any instant pudding – regular or sugar-free would work. The pistachio flavor is subtle but present. I do think I will try adding pistachio extract next time around to bump up that flavor.
You might also like: KitchenAid Chocolate Gelato – No Egg
How to Make Pudding Mix Ice Cream?
Making this ice cream is very simple!
Mix all the ingredients (cream, milk, and pudding mix) in a bowl
Use a mixer or whisk and mix until all ingredients are incorporated and smooth. I used my KitchenAid mixing bowl with the whisk for about 4 minutes until smooth and slightly thickened
If using a KitchenAid, attach your frozen ice cream maker attachment to your machine, turn on low speed, and then pour the mixture into the ice cream bowl while it is on. If using another mixer, churn according to your machine's instructions
Churn for about 12-14 minutes, until nice and thick and creamy
The texture should be thick and close to a soft serve. We had enough to make about 5 ice cream cones like the one in the picture! You can also freeze for a more frozen, hard ice cream texture.
Pudding Mix Ice Cream FAQs
Can I use Sugar-Free Instant Pudding?
You can absolutely use sugar-free instant pudding mix. That is how I made the pistachio ice cream featured in this article because that is what I had on hand!
Can I use a pudding mix that has to be cooked?
I would not recommend using anything but the instant pudding mix for this recipe.
What can I add to pudding mix ice cream?
There are a few things you can consider adding to your ice cream!
Extracts – vanilla, almond, etc. To add some additional flavor, consider adding your favorite extract. Start 1 tsp at a time and taste test
Sugar – I didn't add any additional sugar, and using a box of sugar-free pudding made this just sweet enough for us. Bit if you'd like to add sugar, add it 1/4 of a cup at a time to the mixture until you reach your preferred taste. Do this before churning.
Chocolate chips, nuts, or other candies, etc. – wait until you've churned for 10 minutes, then add into the mixer. This will allow a few minutes for the mix-ins to be incorporated into the ice cream while the ice cream finishes churning.
Do I have to freeze pudding mix ice cream?
No, the reason I really love this ice cream is that it is very thick and creamy right out of the ice cream maker. We had enough to make 5 ice cream cones with a little left at the end. From start to finish it took less than 20 min for everyone to be enjoying ice cream. You certainly can freeze for the firm/frozen texture if that is what you prefer!
Wrap Up
If you liked this post, it would mean a lot if you would follow me on Facebook, Pinterest, or Instagram. If you use #handcraftedhomegrown on Instagram, I'll be watching! 🙂
It would really help me if you pinned this post on Pinterest! Thank you!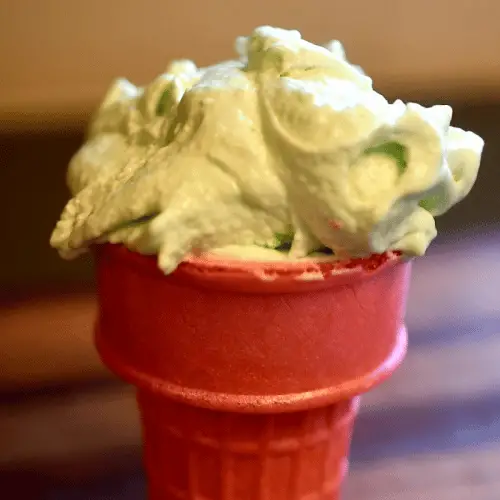 Pistachio Pudding Ice Cream
This simple ice cream uses 3 ingredients to make a quick and delicious ice cream. This can be customized with any pudding flavor.
Ingredients  
1½

cups

whole milk

1½

cups

heavy cream

1

box

instant pudding

See notes
Instructions 
Freeze your ice cream maker bowl according to directions

Combine milk, heavy cream and pudding in a bowl. I used my KitchenAid whisk and mixed on low speed for 4 minutes until full combined and no lumps

Once smooth, churn in your ice cream maker, I used my KitchenAid. Churn for about 12 minutes until thick and creamy

Enjoy immediately or transfer to freezer
Notes
This recipe calls for 1 box of pudding mix – the smaller/regular size box.  This will be 1 ounce for sugar-free and 3.4 ounces for regular pudding.