Sourdough Zucchini Bread – Recipe
This delicious Sourdough Zucchini Bread recipe incorporated two ingredients I have an abundance of, zucchini and sourdough discard. Not overly sweet, but sweet enough to satisfy my toddlers and husband. This was devoured in just 2 days!
Jump to Recipe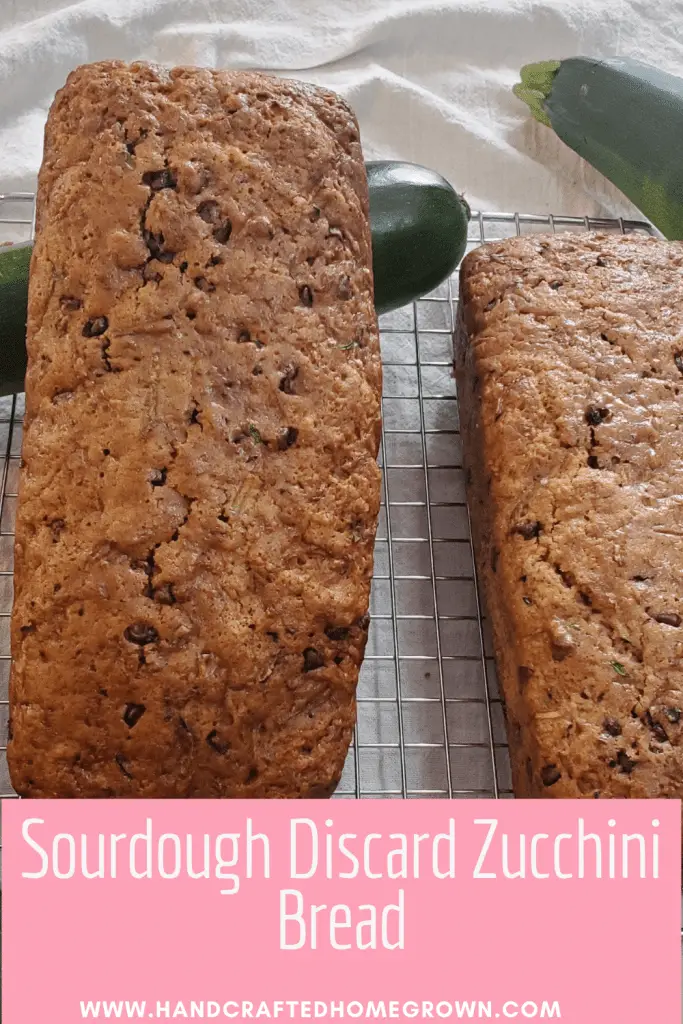 This post contains some affiliate links for your convenience (which means if you make a purchase after clicking a link, as an amazon associate, I will earn a small commission at no additional cost to you)
It is August, and our zucchini plants are producing in over drive. I also thawed out my sour dough starter from the freezer to make fresh bread to go with all the tomato sauce we'll soon be making as well! This means, sourdough starter is also plentiful. This recipe helped use up a little of both, so no complaints from me, or my family! The kids really love this, as long as I describe it as banana bread. If you mention the word zucchini, the 3 year old is immediately no longer interested – you have to love kids!
Ingredients for Sourdough Zucchini Bread
Dry Ingredients:
2 cups All Purpose Flour
1 cup Sugar
2 tsp Baking Soda
2 tsp Cinnamon
1 tsp Salt
Wet Ingredients:
2 Eggs
2 cups Shredded Zucchini (about 1 Medium Zucchini)
3/4 cup Oil
1 tbsp Vanilla Extract
Fold In Ingredients
1/2 cup Sourdough starter
1/2 cup mini chocolate chips (optional)
Process
One medium zucchini shredded was about 2 cups in my large measuring cup. When making this recipe I always use one medium zucchini and do not worry too much about the measurements. Wash the zucchini, cut off the ends and shred on a box cheese grater. I do not find that squeezing water from the zucchini is necessary. Combine the dry ingredients in my kitchen aid mixer bowl, and mixed them together. Next, combine the wet ingredients in a separate bowl, also mixing together. I slowly mix the wet ingredients into the dry in my kitchen aid on a very low speed. Then I fold in the shredded zucchini and chocolate chips.
I use these silicone loaf pans (linked), and I do spray them. Divide the batter equally into the loaf pans. It took my loaves approximately 47 minutes to bake. They were brown on the top and a tooth pick came out clean. This bread is a favorite in this house plain, with butter or toasted.
Recipe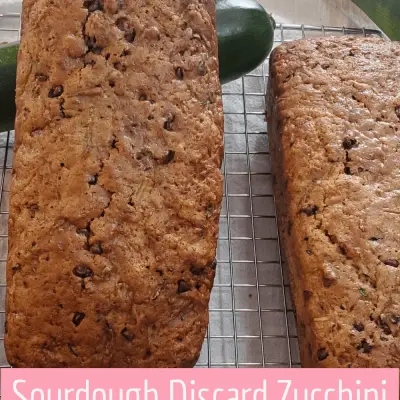 Sourdough Discard Zucchini Bread
Ingredients  
2

cups

All Purpose Flour

1

cup

Sugar

2

tsp

Baking Soda

2

tsp

Cinnamon

1

tsp

Salt

2

Eggs

2

cups

Shredded Zucchini

1 Medium Zucchini

3/4

cup

Oil

1

tbsp

Vanilla Extract

1/2

cup

Sourdough starter

1/2

cup

mini chocolate chips

optional
Instructions 
Preheat oven to 350 degrees. Spray two loaf pans with cooking spray.

Combine Dry Ingredients together in medium bowl. Flour, Sugar, Baking Soda, Cinnamon, Salt. Mix together.

In another bowl combine the wet ingredients. Eggs, oil, sourdough starter, vanilla extract.

Mix the wet and dry ingredients together

Gently fold in shredded zucchini and chocolate chips

Put mixture into the greased loaf pans and bake for 45 minutes or until golden brown and toothpick comes out clean.
How to Store Sourdough Zucchini Bread
The best way to store bread in my experience is either in a ziplock bag or wrapped in aluminum foil. It doesn't last very long in our house, so I leave it on the counter. But storing in the fridge would probably help it last longer.
I hope you enjoy this Sourdough zucchini bread recipe. I'd love to see if if you do, please use the #handcraftedhomegrown on Instagram so I can find it or comment below.
Other Zucchini Recipes
If you love Zucchini, check out these other recipes:
Zucchini Brownies from Scratch
Wrap Up
If you liked this post, it would mean a lot if you would follow me on Facebook, Pinterest, or Instagram. If you use #handcraftedhomegrown on Instagram, I'll be watching! 🙂
It would really help me if you pinned this post on Pinterest! Thank you!