Can You Use Beefsteak Tomatoes for Salsa?
After growing way too many tomatoes this year (which I didn't think was possible, but it was!) we tried making homemade salsa for the first time. Homemade salsa makes a great snack and is a hit at every party!
Beefsteak tomatoes, also known as a beef tomato, make great salsa due to the meaty texture and few seeds. Any kind of tomato you have on hand will work for Salsa, but Beefsteaks are one of the top choices for making salsa.
Read on below for more info, or check out my favorite salsa recipe here!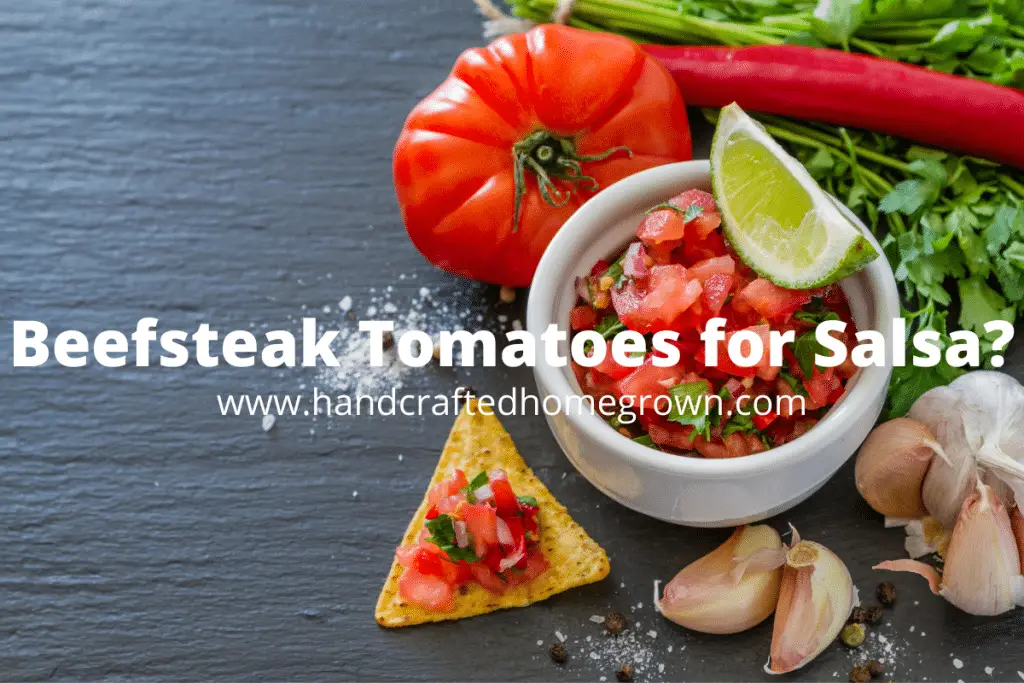 This site is a participant in the Amazon Associates program, as well as other affiliate programs. As an Amazon Associate, I earn from qualifying purchases. This post may contain some affiliate links for your convenience.
What are Beefsteak Tomatoes?
Beefsteak (or beef) tomatoes get their name because of their texture and qualities. They are large (beefy) tomatoes, with a meaty texture and very few seeds. They are the largest variety of tomatoes, and we have grown tomatoes that weigh over one pound! Their texture makes them great for salsa, because of the few seeds and dense texture.
How to Select a Good Beefsteak Tomato
When selecting a beefsteak tomato to purchase, you'll want to look for a tomato that is red, with no visible bruises or holes that may have come from any bugs. It is best to buy them (or pick them) as close as you can to using them, knowing fresher tomatoes are best. Tomatoes typically peak in the summer, so if you're buying in the off-season they may not be as flavorful. You should store tomatoes at room temperature. If tomatoes are a little under-ripe setting them on the counter at room temperature can allow them to continue to ripen. If you have very ripe tomatoes and haven't had a chance to use them yet, you should refrigerate them to try to keep them from overripening them before being able to use them.
What Tomatoes are Good for Making Homemade Salsa?
Chances are you made your way here because you're looking to make salsa. So beefsteak (beef) tomatoes are great for that purpose, but what other tomatoes will make a great salsa? Yes!
First, if you have some fresh tomatoes are in the mood for salsa, I'd use whatever you have. But if you're in the grocery store, and can't choose between tomatoes to buy, I'd personally go for a tomato with fewer seeds and a thicker texture when possible. We also really love salsa made with roma tomatoes, which have fewer seeds and a meaty texture.
Check out my Roma and Beefsteak salsa recipe here!
Great Recipes using Salsa
So you've made a great tasting salsa. Other than eating with chips (which is heavenly) – what else can you make with salsa?
My step-mom bakes chicken breast in the oven covered in salsa. A simple way to spice up chicken.
I have a friend that would cover her eggs every morning in salsa.
Use as a condiment. I've been finding new and creative things to dip into salsa! Including frozen chicken nuggets I "made" for my kids!
Here's an article from The Kitchn with even more great ideas on how to use up salsa.
17 Ways to Use Up a Jar of Salsa
Never let a jar get pushed to the back of your fridge again.
Other Uses for Beefsteak Tomatoes
We grow Beefsteak and Roma tomatoes in our garden. We use this blend in our homemade tomato sauce, and its is absolutely delicious.
You can slice them and add to sandwiches and salads
Here's an recipe for fried, breaded beefsteak tomatoes
Wrap Up
If you liked this post, it would mean a lot if you would follow me on Facebook and/or Pinterest.