Homemade Tomato Sauce – Easy No Peeling
Homemade tomato sauce is a delicious way to use tomatoes from the garden. This post will show you how we took 55lbs of tomatoes and turned it into 13 quarts of homemade tomato sauce. Making sauce is easy, but it is not quick when working in bulk.
Our Process/Timeframe for making Homemade Tomato Sauce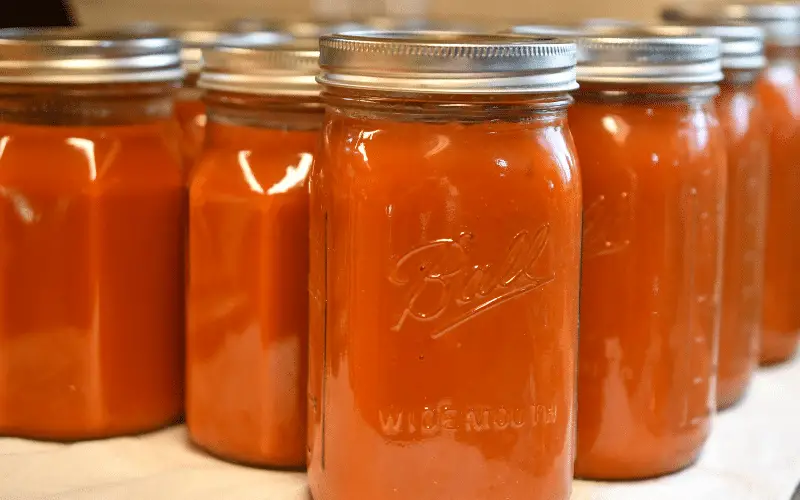 This site is a participant in the Amazon Associates program, as well as other affiliate programs. As an Amazon Associate, I earn from qualifying purchases. This post may contain some affiliate links for your convenience.
This is our process, I also put in some time references so you can get an idea of how long it took us for each step in turning 55lbs of tomatoes into sauce. See specific sections below on more specifics on each step. We have done sauce a few different ways the last couple years and this is our favorite method.
Clean and Cut Up Tomatoes: 7:45 – 8:45 am
Start Boiling/Reducing: 9:15-11:45 am
Season
Blend: 11:45-12:00 pm
Strain: 12:00 – 1:00 pm (if you have small kids – this def needs to happen during nap time!)
More Cooking: 1:00 – 1:45 pm- but also overlaps with previous step
Preserve – 1:45 – 4:30 pm
1. Clean and Cut Up Tomatoes
This is a simple step but takes a little bit of time. We wash all the dirt off the tomatoes and cut out the cores and any damaged or undesirable parts of the tomato. We then cut into big chunks.
2. Start Boiling/Reducing
We put the tomatoes into large pots by themselves and let them start to boil. Two pots were needed due to the volume of tomatoes we were dealing with. Two tablespoons of salt per pot were added to start to draw out the water. Making sure to stir regularly. Before you know it, you'll have a pot full of tomatoes in liquid. The process of making the sauce is basically evaporating out enough water to get to a thickness you like. So keep boiling and stirring.
3. Season
Once the tomatoes are cut up and starting to reduce, we get to work on seasoning. We aren't particular on how we cut up the garlic and onions, because we're going to blend them up. This was 4 sweet onions and 30 cloves of garlic. We love our garlic, and honestly – I could have used even more. We caramelize our onions and garlic before splitting them up in between the two pots and keep on cooking! Sometimes, we also add basil or jalapeño in if we are in a spicy mood!
4. Blend
After a couple hours of boiling, the sauce will be getting more "stewy", it will be thicker. Once we hit that point, we use an immersion blender and blend up everything right in the pots on the stove. You want to really get rid of as many large chunks as you can and get it as smooth as possible. We sometimes will blend, continue to reduce, then blend again if we think it needs it. Blending as much as you can really helps a lot!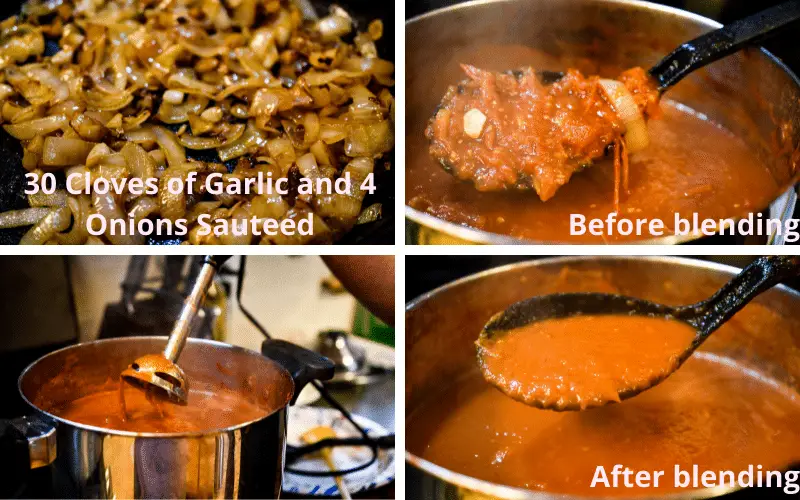 5. Strain
After blending we will usually continue to cook until our kids are ready for their naps (hot liquids and toddlers do not pair well). Try to turn the sauce off for at least 10 minutes before straining so it isn't boiling while handling it. Use a metal mesh strainer and put every drop of sauce through it. This can get a little tricky if you don't have another large pot to strain your sauce directly into. We had to do some kitchen gymnastics and ended up straining into our crock pot and another small pot until we could get enough space to free up one of the larger pans. We typically place whatever we are straining into in the sink, so if there is any splashes it ends up in the sink and easily rinsed. You can see what we have left over from straining below and we add this to our compost bin.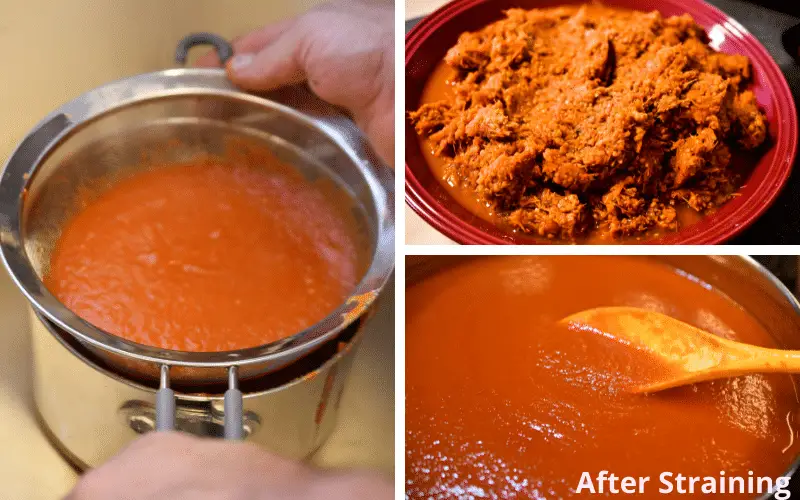 6. More Cooking
Constantly try to maximize the time on the stove reducing. As soon as you have enough strained, get it back to reducing on the stove while you strain the rest and add to what is on the stove. I find that this is where your patience is tested. Sometimes, we end up canning our sauce before it reduces as much as we would like due to how long the process takes. We typically know which jars are thinner and we save those for when we are going to put sauce in the crock pot. That way it can reduce more as it cooks when its used.
7. Preserve
There are a few ways to preserve the sauce you make, here are some resources on more info on this:
Water Bath Canning
We preserve our sauce by water bath canning. Canning needs to be done in the proper way to make sure it is done correctly so bacteria does not grow in your food and make you sick. We use Ball canning jars and follow the methods specifically recommend by them to water bath preserve our sauce. Here is the direct link to their instructions: Tomato Sauce Canning Recipe | Ball® & Kerr® Fresh Preserving
Freezing Tomato Sauce
To freeze tomato sauce, let it completely cool. Then place into freezer zip lock bags. Freeze flat until frozen solid (around 1 hour), then you can rearrange however you'd like. When ready to use, thaw in the fridge or on the counter and put into a pan to use.
Why Should you make Homemade Tomato Sauce?
Well first off, you should only really make it if you find it enjoyable. We like spending the day together as a family, and really enjoy a taste of our garden in the middle of winter. By making our own sauce and preserving it – we enjoy it year round. However, growing tomatoes, making sauce and preserving it is a very time consuming process. So if it is not something you enjoy, you might want to pass!
What Kind of Tomatoes for Homemade Sauce?
This year, we are using beefsteak and roma tomatoes in our sauce. Roma tomatoes are beautiful in sauce, and then honestly we add whatever we can get. Last year, we had a variety of tomatoes we grew and were given from neighbors and we liked the roma/beefsteak blend. The sauce we are making this year is absolutely delicious, so while I'm tempted to try out more variety, it is going to be hard to deviate from something we know tastes amazing!
What to make with Tomato Sauce
Some of our favorite things to make with tomato sauce is first off, the obvious – sauce for pasta. But we also make chili, pizza, various casseroles and much more!
What are your favorite recipes for using Tomato sauce? Leave me a comment below!
Looking for a way to use up excess sourdough starter and zucchini from the garden – try this: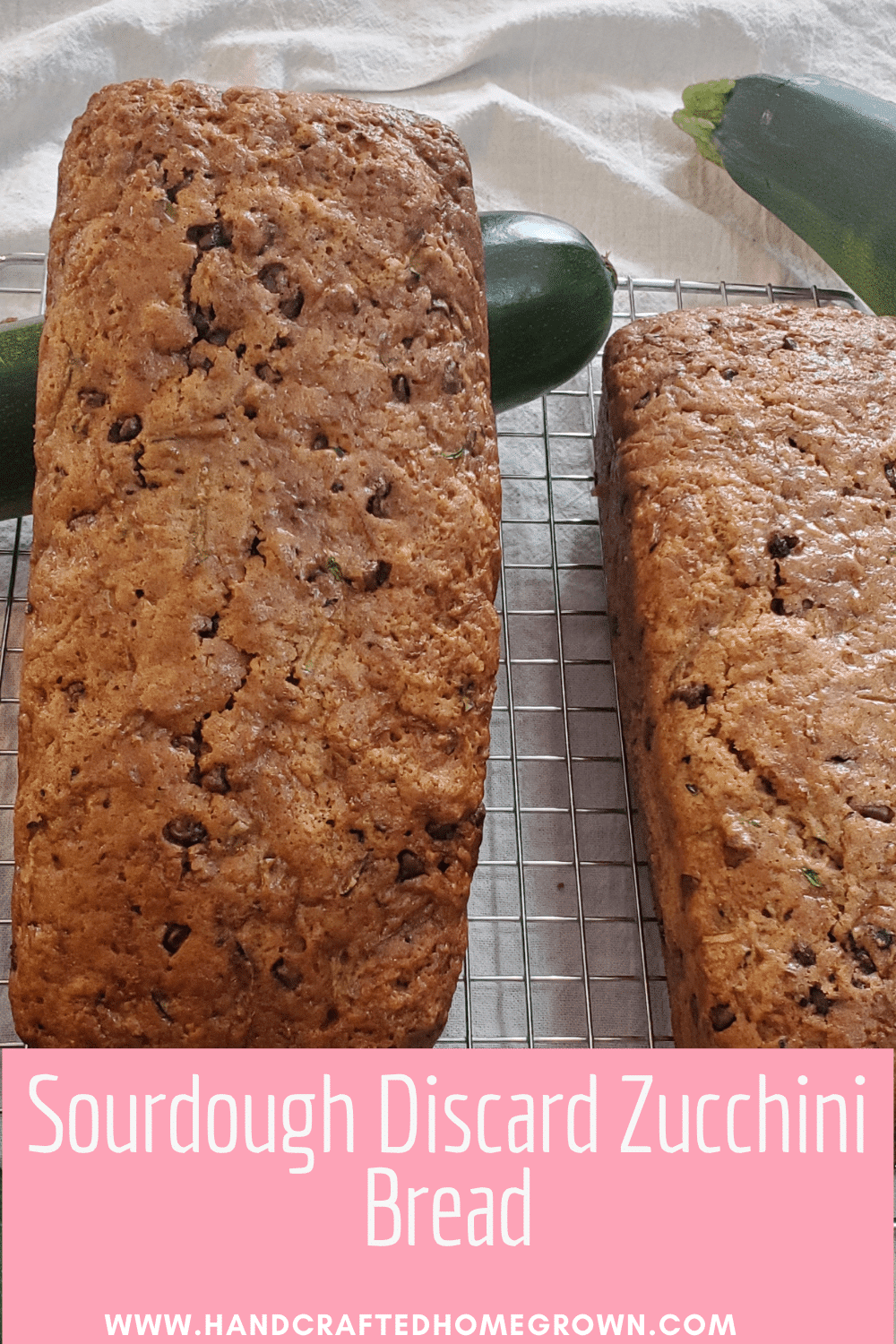 Sourdough Zucchini Bread – Recipe
This delicious Sourdough Zucchini Bread recipe incorporated two ingredients I have an abundance of, zucchini and sourdough discard. Not overly sweet, but sweet enough to satisfy my toddlers and husband. This was devoured in just 2 days! This post contains some affiliate links for your convenience (which means if you make a purchase after clicking …
Read More

about