Can I use Gouda Cheese to Make Macaroni and Cheese?
Over the years, I've tried a lot of different macaroni and cheese recipes, combinations of difference cheese, stove top vs baked, etc. Our family has finally settled in our favorite macaroni and cheese recipe. This is a special occasion meal, not an every week kind of dinner. It is a hit every time.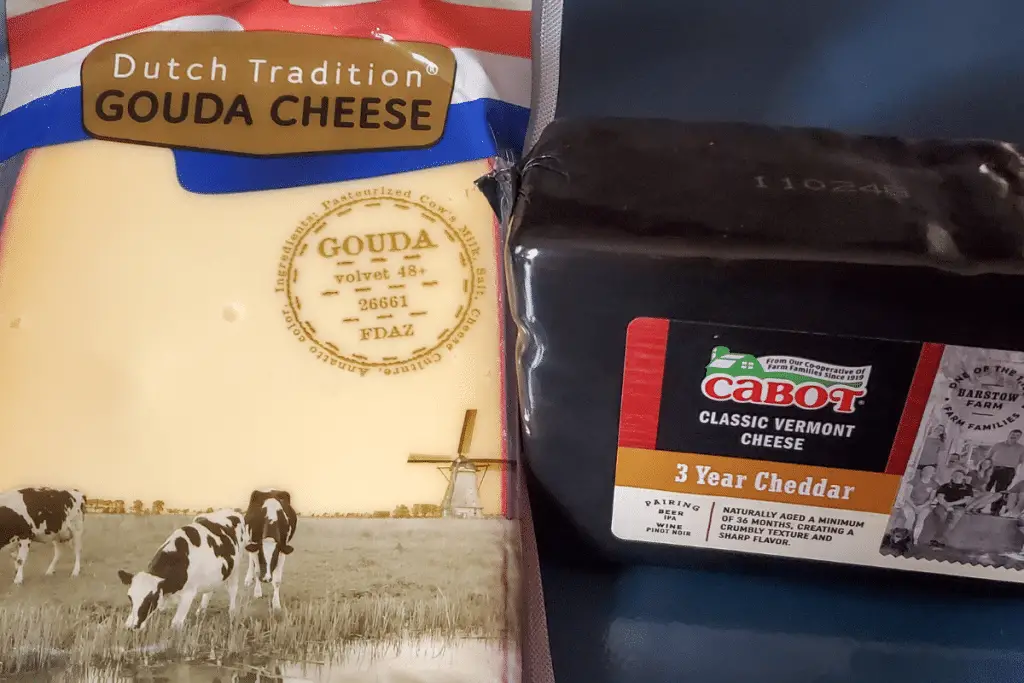 This site is a participant in the Amazon Associates program, as well as other affiliate programs. As an Amazon Associate, I earn from qualifying purchases. This post may contain some affiliate links for your convenience.
Can I use Gouda Cheese to Make Macaroni and Cheese?
Gouda cheese is a wonderful melting cheese and is great in macaroni and cheese. Combining with cheddar makes an amazing cheese sauce that is sure to please everyone! A non-smoked gouda and a medium sharp cheddar are the cheeses our family prefers to make macaroni and cheese with.
Other Macaroni and Cheese Tips I've Learned
After making a lot of macaroni and cheese over the years, here are a few things I've learned.
Seasoning
You will notice something about this macaroni and cheese, there's a lack of seasoning. I do use salted butter, so there is salt from there. Aside from that, I its pretty plain. Feel free to add in seasoning as you like it. Over the years, I've tried adding onion powder, garlic powder, different types of mustard, etc. but I just like it better plain and cheesy. People can add salt and pepper as they see fit. I love eating leftovers with red hot on top. But this recipe is plain because that is how I like it!
Grating Your Own Cheese vs. Using Pre-Grated Cheese
You should grate your own cheese if you can. Pre-shredded cheese has ingredients added so it doesn't stick together. This also means it doesn't melt as well. I have used pre-shredded cheddar before and made it work! The cheese sauce on the stove just might not be as smooth. This is the cheese grater I use, I like it because the two sides can slide off so you can clean the grater without having to reach your hand up into a grater and feel like you're in a Saw movie!
Cheese Preferences
When choosing a gouda and cheddar to use, this will depend on what is available and what your preferences are. I avoid smoked gouda cheese, I do not like smoke flavor. We typically go for a medium or sharp cheddar cheese based on my preference of not enjoying extra sharp cheese. Sometimes, when being selfless, I do use an extra sharp cheddar as that is my husbands preference.
We have also used "fancy" cheese, and then just the Wegmans or Walmart brand of Gouda and Cheddar. Both options work just fine! So eat the cheese you can afford and that you like!
Making Macaroni and Cheese Ahead of Time
I like this recipe because I can make it ahead. So when having family gatherings the night or morning ahead of time, I'll make this macaroni and cheese up to the point it would go in the oven. Let it cool completely cover with foil and plastic wrap and put in fridge. I then try to get it out and let it come to room temp before baking, but if not, I just know it might take a few extra minutes in the oven.
For this reason, I do not use glass pans to bake my macaroni and cheese in. I've had a glass pan shatter in the oven. I just use a simple baking dish like this one on Amazon. I buy the ones with lids to make things easier for storing leftovers!
What to Serve Macaroni and Cheese With
When making macaroni and cheese, what are other great options to have with it? We like ours with BBQ ribs, BBQ meatballs, ham, salad, baked chicken, really anything you can think of!
Wrap Up
Hope you enjoy this recipe. If you enjoyed this post, it would really make my day if you would follow me on Facebook and Pinterest.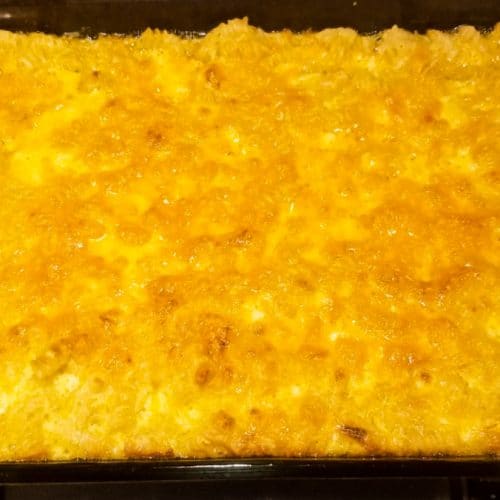 Creamy Gouda and Cheddar Mac N Cheese
After testing many recipes, cheese combos and techniques, this is our family's favorite Macaroni and Cheese recipe.
Ingredients  
1

pound

Rotini Pasta

.5

cup

salted butter

.5

cup

all purpose flour

1.5

cups

2% milk

Whole milk would work too

2.5

cups

half and half

4

cups

grated sharp cheese

measured after shredding

2

cups

grated gouda cheese

measured after shredding
Instructions 
Shred cheese, mix 4 cups sharp and 2 cups gouda together to create cheese blend

Seperate cheese into 3 cups for sauce, 1.5 cups for middle layer and 1.5 cups for top layer

Spray a 9×13" baking dish and set aside

Cook pasta according to package directions. If pasta finishes before cheese sauce, strain and mix with a little butter so it does not stick together.
While Pasta is Cooking – Make Cheese Sauce
Melt butter in a large pan over medium heat. Once melted, sprinkle in flour and whisk to combine. Cook for approximately 1-2 minutes whisking constantly. Pour in the milk and stir until smooth. This can take a few minutes. Once smooth, add in the half and half and continue to cook.

Continue to cook and mixing almost constantly until the mixture thickens. It will thicken. This is where your patience will be tested! Continue to cook until it is a thick sauce. This can take between 5-10 minutes depending on your heat. Stir constantly so it does not burn.

Once thick, add in 1.5 cups of cheese blend. Stir for 2 minutes or until cheese is melted and smooth. Add in remaining 1.5 cups of cheese and stir until smooth. Turn off heat.

Optional: This would be a good place to add in seasoning if you'd like. I like mine plain, so I don't even add in pepper. But now that you have the cheese sauce you can season with anything you'd like!
Assemble Mac and Cheese into Baking Pan
If you cook the sauce in a large enough pan, combine the strained pasta into the pan with the sauce. If not, mix pasta and cheese sauce in a pan or bowl.

Put half the pasta mixture down into the pan and sprinkle with 1.5 cups of the grated cheese.

Add the remaining pasta on top of that layer, and sprinkle the rest of the cheese on top.
Baking Mac and Cheese
Bake pasta for about 30 minutes at 350 until bubbly. I also broil for 2-3 minutes to get a crispy cheese topping.

Try to allow it to cool before tasting so you don't burn your mouth, but sometimes, this is hard to do.