What is the Best Paper for Paper Flowers?
If you own a Cricut, Silhouette or are an avid crafter, you've seen the beautiful rolled paper flowers people are making. But what is the best type of paper to use when making these paper flowers?
As a general rule, the best paper to make paper flowers is a solid core medium weight card stock. There are still many color and finishes to choose from, but the medium weight solid core will set you up for success for beautiful rolled flowers.
My favorite paper for paper flowers: Click here to see on Amazon.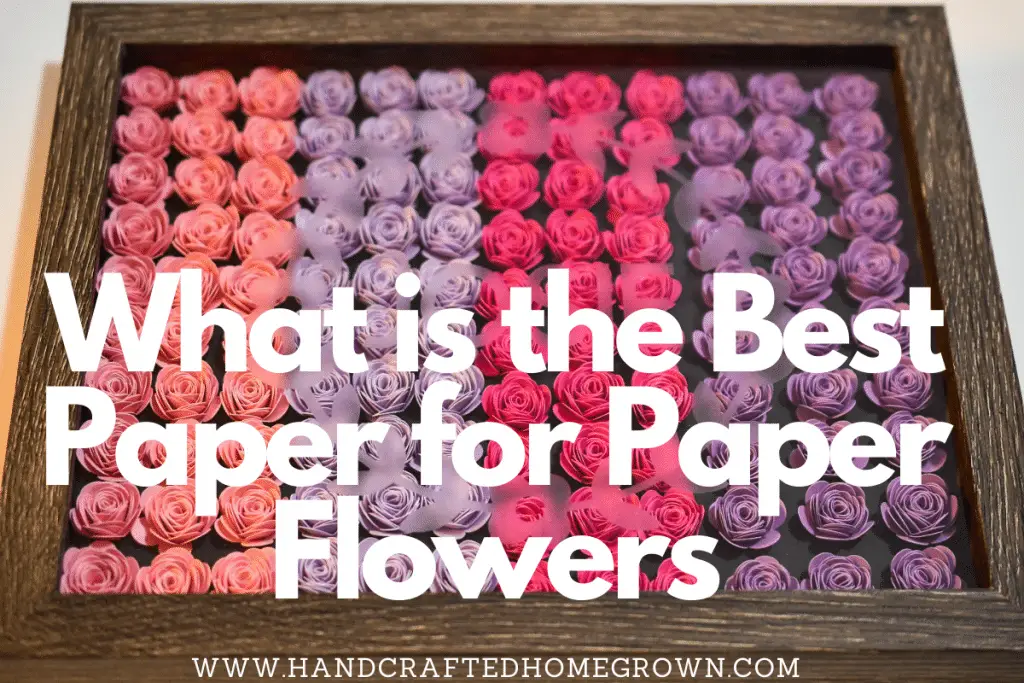 This site is a participant in the Amazon Associates program, as well as other affiliate programs. As an Amazon Associate, I earn from qualifying purchases. This post may contain some affiliate links for your convenience.
What is the Best Paper for Rolled Paper Flowers?
Medium weight, solid core cardstock is a great option because you probably have it on hand if you're a paper crafter! It works great and makes beautiful flowers. This is the type of paper I used to make paper flowers in my paper flower shadow box. This is one of my favorite projects to date. But there are a lot of other kinds of cardstock out there, and lots of other kinds of paper. So lets chat on those!
My Recommended Products for Rolled Flowers
Below are the basic tools, supplies needed to make paper flowers. All links go to Amazon for your convenience.
Glue – I love this Art Glitter Glue, and I tried a lot of glue. It dries clear and is not glittery!
I use my Cricut Maker, mats, etc.
You'll need a paper flower SVG, my favorite rolled flower is #M3D7E1 in Cricut Design Space
Types of Cardstock
Cardstock comes in different cores, white core and solid core. As well as different weights, including light, medium and heavy. When making rolled paper flowers, cardstock is cut and then rolled into a flower. So how do you know which to choose? I'll outline these differences below, and I think it will be clear to you at the end why medium weight solid core cardstock is the choice of many crafters.
What is White Core Cardstock?
White core cardstock, is where the center, aka the core, is white. The paper is not dyed all the way through. This can be perfectly fine for certain crafts, where the inside of the paper isn't visible. However, due to the nature of rolled flowers, you can see the core of the paper. Therefore, for the best look, I would not recommend a white core cardstock.
What is Solid Core Cardstock?
Solid core cardstock has a center, aka the core, that has been dyed solid to match the outside of the paper. Therefore, when you cut the paper, the edges will be the color all the way through. This is makes it ideal for paper flowers, because once the paper has been cut and rolled, the color will be consistent on the edges.
How can you tell if Cardstock is Solid Core or White Core?
When you're at the store or shopping online, how can you tell if a cardstock is solid core or white core? So, first option is to check the packaging. Sometimes the package will state if its solid core and white core. Unfortunately, this is not always the case. In the event that the it is not obviously stated on the packaging, you can visually inspect the paper. You're going to look at the bottom of the package, where you can see the ends of all the paper. If this color looks identical to the color of the paper, there is a good chance this is solid core. If it looks like a slightly lighter or different color than the paper, there is a good chance this is white core, and just the edges were dyed before packaging. I am not going to lie, I have made mistakes and purchased white core cardstock on accident before because I did not inspect the packaging or the paper. Now, I try to do my best to only purchase solid core cardstock.
You can see below that the different between solid core (left) and white core (right) makes a big difference in how the paper flower will look once completed.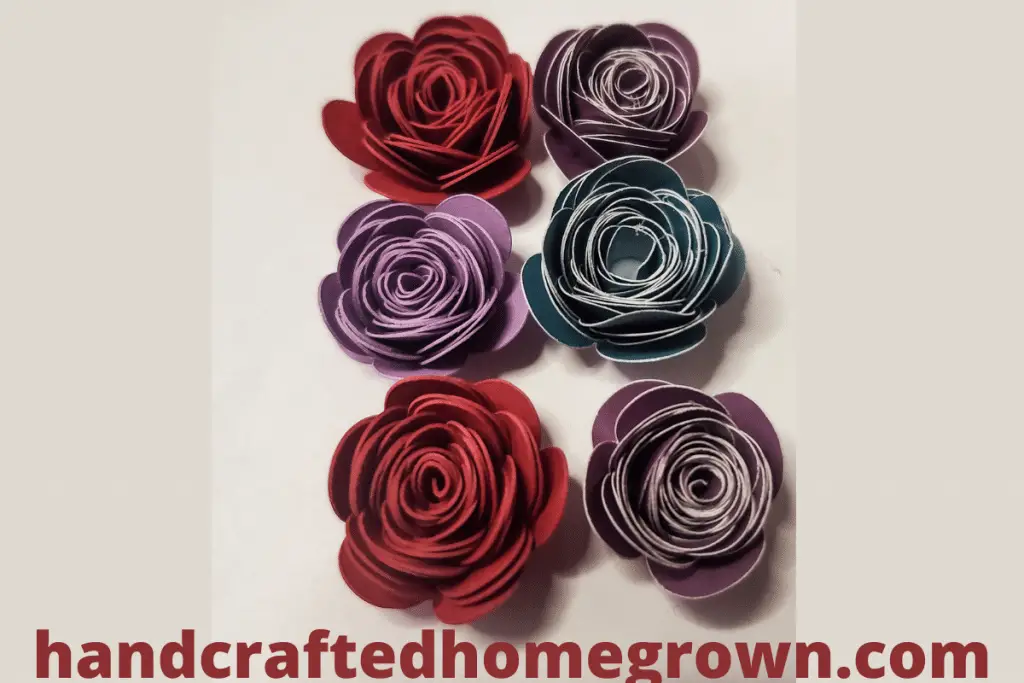 What Are the Different Cardstock Weights?
When shopping for cardstock, you'll immediately see that on the package you'll see something like 65lb or 110lb right on the packaging. This is the indicator to you to how heavyweight the paper is. The paper I have found that I like the most is the 65lb (medium) weight cardstock, Recollections brand that can be bought on Amazon or Michaels. I also see a lot of people recommending 80lb cardstock – which is typically what the Cricut brand cardstock is. The heavier the weight of the cardstock the harder it will be to roll up. The lighter the weight of the cardstock, the more flimsy and fragile the cardstock will be.
Other Types of Paper to Make Rolled Paper Flowers
I did try to use a few other types of paper to make rolled flowers with my Cricut. My favorite alternative option turned out to be shimmer paper. Although, it is white core, so I would probably only use this to add a little something to gift card or gift wrap. You can see the difference in the above picture that
I also did try making a rolled paper flower with a seed paper I found on Amazon. The paper did not cut well for a rolled flower. So I would not recommend it for a traditional rolled flower. But I am looking into other ways to make a paper flower with this paper!
Wrap Up
If you enjoyed this post, it would really make my day if you would follow me on Facebook and Pinterest.