Sunflower SVG files for Cricut or Silhouette (free and paid)
Are you looking for a Sunflower SVG file to use with your Cricut Maker or Silhouette Cameo?  I searched the internet and found both free and paid sunflower SVGs for your use.  See below!
Here is a list of sunflower SVGs.  Some are free SVG files, and some are paid, and I'll note which they are.  Once you download the digital files, you can upload into Cricut Design Space or Silhouette Studio for use.  You will need to validate each one the terms of commercial use or personal use.  These digital items will come in a zip format most of the time. You will need to unzip them before uploading. Typically, this is done by going to the zipped folder, right clicking and selecting "unzip" or "extract" files.
There are a variety of SVG files below which can be used with your cutting machine for home decor, greeting cards, tote bags, paper crafts, vinyl craft projects, tumbler cups, invitation cards and more.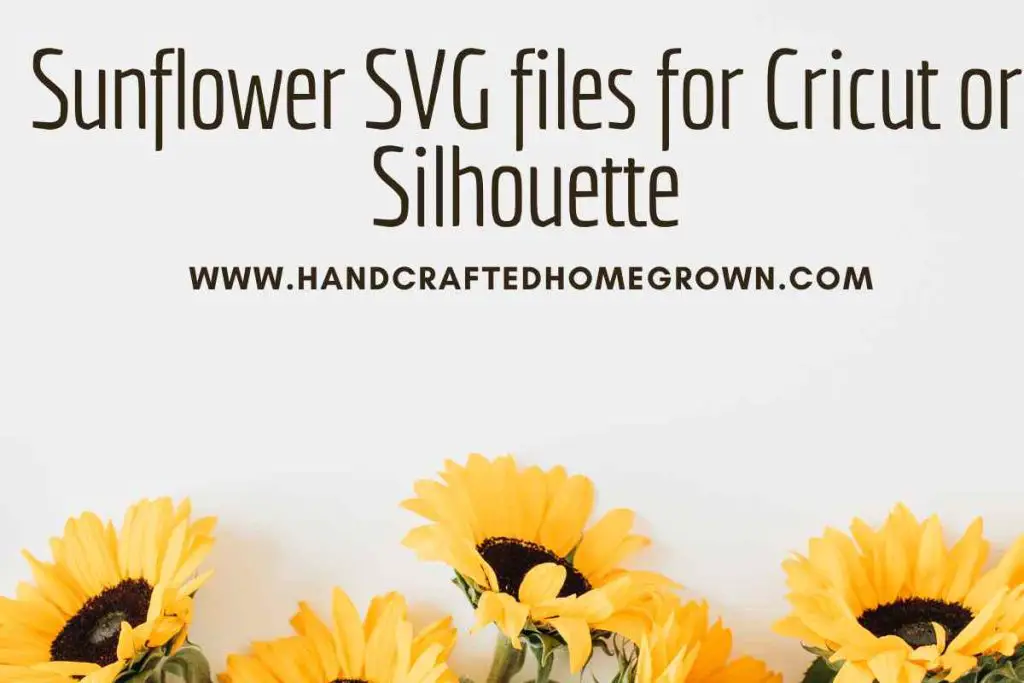 Free Sunflower SVGs 
Here is a list of free files for you to download.
JoySVG – Free Sunflower SVG – Free SVG Cut Files 🌻 (joysvg.com) has many SVG files listed.  However, I did notice that when you click on the items offered, it can send you to a variety of different websites to download the files.  Some you may need to login to via Google, Facebook or create an account on the website.  However, I did try a few and they all worked and were able to be downloaded.  I really liked the sunflower pumpkin svg and will be looking for a way to use that in the near future.
Caluya Design offers this great free SVG file – FREE Sunflower Monogram SVG Cut File for Cricut, Cameo Silhouette – Caluya Design – it is a free  SVG cut file for personal use but there is an extra cost if you choose a commercial or Print on Demand license.  This bundle includes both half sunflower options as well.
alltheSVGs – FREE Sunflower SVG Files [No Sign Up to Download!] (allthesvgs.com) has many unique SVGs files to choose from.  There is no sign up to download, which I love.  These are for personal use only.
Highly Rated Paid Sunflower SVGs
These are affiliate links to highly rated Etsy Sellers Sunflower SVGs on Etsy.    Oftentimes when you buy SVGs they come with different file types, including PNG files but not always. Therefore, you should make sure what file types you need to use and make sure what you're purchasing has what you need.  Remember, all of these files are digital download only and no physical item or physical products are received with the purchase.
If you're looking for a classic sunflower that is beautiful and simple, this SVG from HeatherRobertsArt is a great choice.  The seller has over 60,000 reviews and has an average rating of 5 stars.  The reviews show people using this SVG on masks, cups and stickers.  This is a great reasonably priced SVG for personal use, with the option to send a little more for a commercial license.
I love the work that my3dsvg does, I've mentioned them in other blog posts.  She has a really adorable sunflower pumpkin svg that will make a great fall shadow box.  I just added this SVG to my cart and this might be a weekend project for me!  These files come with separate layers that once stacked upon one another create a beautiful, high quality product.  I have done a few of these and have loved them all.
Another very highly rated seller on Etsy – TheMelodyFace has a sunflower SVG bundle which has a wide variety of sunflower SVGs.  Perfect if you can't make up your mind and you want a sunflower for a variety of projects.  It has many positive reviews.  It also has a commercial license so this might be a great option for small business use. Just be sure to check the licensing details.
Understanding Image Licenses
No matter where you get your SVG and what you pay (or don't) for these sunflower SVG cut files, you need to understand what the license is for the files.  There are a few different license types.  This is my basic understanding, but I'm not a lawyer, so make sure you're reading the license associated with the files you are using, especially if you're planning on using them for commercial use.
CC0 Image – Also known as no rights reserved, means the SVG file is free for personal or commercial use.  However, if you plan to use it commercially you may want to do additional research to really confirm the original image is CC0.  You can read more about Creative Commons here.
Personal License – these are typically files that you can download and use for yourself, including on items you're giving away as gifts.  However, these licenses do not cover anything you're selling.  If you're planning on selling items, you'll likely need a commercial license.
Commercial License – This license will allow you to sell products using the SVG file.  However, each one is unique so you'll need to read the license closely to determine any limits.  The most common limit is how many items you're able to sell.  
Another best practice is if you get a free SVG from someone's website, if you decide to share with a friend, you should direct them to the website you got it from vs. sending the file.  When you download the files, you do not have the right to share them.  Also, many bloggers who are giving away these SVG files they have created get a large part of their revenue from the display ads on their website.  
Wrap Up
Hopefully this article of sunflower SVG files has helped you come up with some ideas you can incorporate these sunflower designs into your DIY projects.  From paper crafting, vinyl shirt decals to a tumbler cup the only limit is your imagination!  
Check out my other crafting articles here and follow me on social media!