How to get Cricut to Write Instead of Cut?
You've got a Cricut, and you've cut your first basic shape after being walked through the tutorial when you unboxed. But now you want to try out one of your Cricut pens. How do you get your Cricut to write?
To get your Cricut to write instead of cut, insert the text you'd like to write. Select the text and then choose the "pen" operation instead of "cut". If you are in the app select the text, choose edit, then scroll to the right to where you get to line type and select draw.
Check out my favorite Cricut pens on Amazon: Click here.
This site is a participant in the Amazon Associates program, as well as other affiliate programs. As an Amazon Associate, I earn from qualifying purchases. This post may contain some affiliate links for your convenience.
How to get Cricut to Write Instead of Cut?
When I first got my Cricut, I was completely baffled by trying to get the Cricut to write. It is actually very simple! The steps below correspond to the numbers in the graphic.
Insert the text you would like to write, like you would text you want to cut. Choose the "T" for text on the left hand menu bar.
Type the text you'd like to write
Under operations, selection "Pen" under "Draw" portion of the menu
Select the Font you'd like the writing to be in
Complete your project like you would any other project
You'll notice in the screenshot below, that you can see the text turned into "bubble letters" when switched to a drawing function within Cricut Design Space. If you want it to look like true handwriting, you'll have to be strategic in the fonts you select, which I talk about more in the next two sections.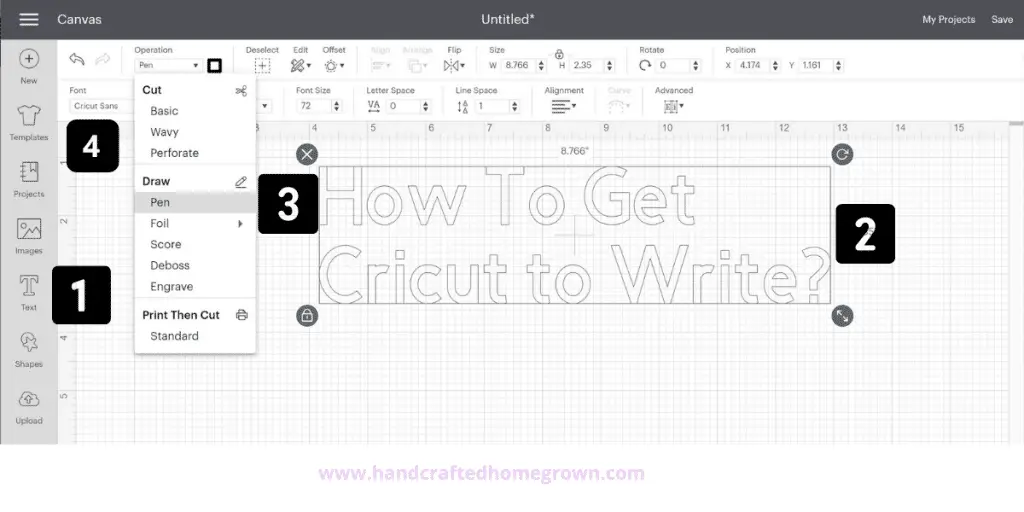 How to get Cricut to Write like Handwriting?
To get your Cricut to write like handwriting, when selecting a font, filter for "writing". This will show font options that can be written. To do this, with when you are in the "font" menu, select filters in the top right corner and select "writing". From there, you need to select fonts that look like handwriting. The larger/bolded fonts will look more like bubble letters. Once you choose the font, it should show you what it will look like on your project when it is written out.
Unfortunately, this is not available in my Design Space App on my cell phone (Android), so I have to do it from my laptop. However, down below I will list out some of my favorite writing fonts for you.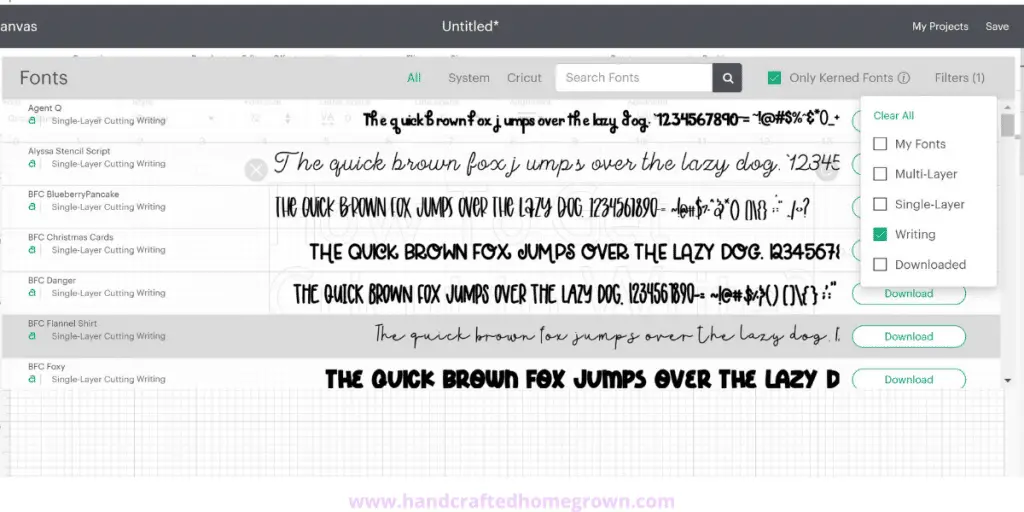 Free Handwriting Fonts To Download and Install
You may find that when you start using the write feature on your Cricut, your words look like bubble letters. This is because you need a single line or very thin font to look like "handwriting" you'd do yourself. One free font I found that looks single line and much like handwriting is Slim Extreme from dafont.com. Within Cricut Access, there were three fonts I found and quite liked.
Telegram Text
DTC Harvest Moon
Haley
Otherwise, it is pretty difficult to find free single line fonts for free. Here is a site that has some pretty single line fonts for sale though. I have not tried any of these fonts personally.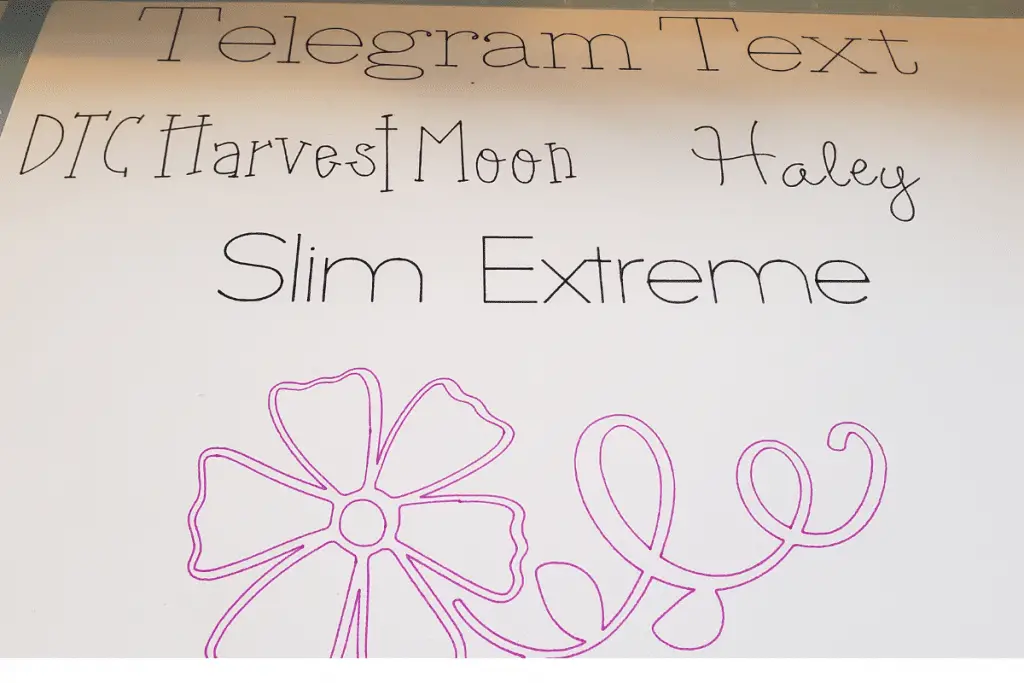 How to get Cricut to Write Instead of Cut on your Phone?
To get your Cricut to write instead of cut from your phone, first, insert the text you'd like to write. Next, select the text and choose "edit". Scroll to the right until you find where it says "cut". Click "cut" and move to the "Draw" menu. Select the pen/color you're using, and you're all set!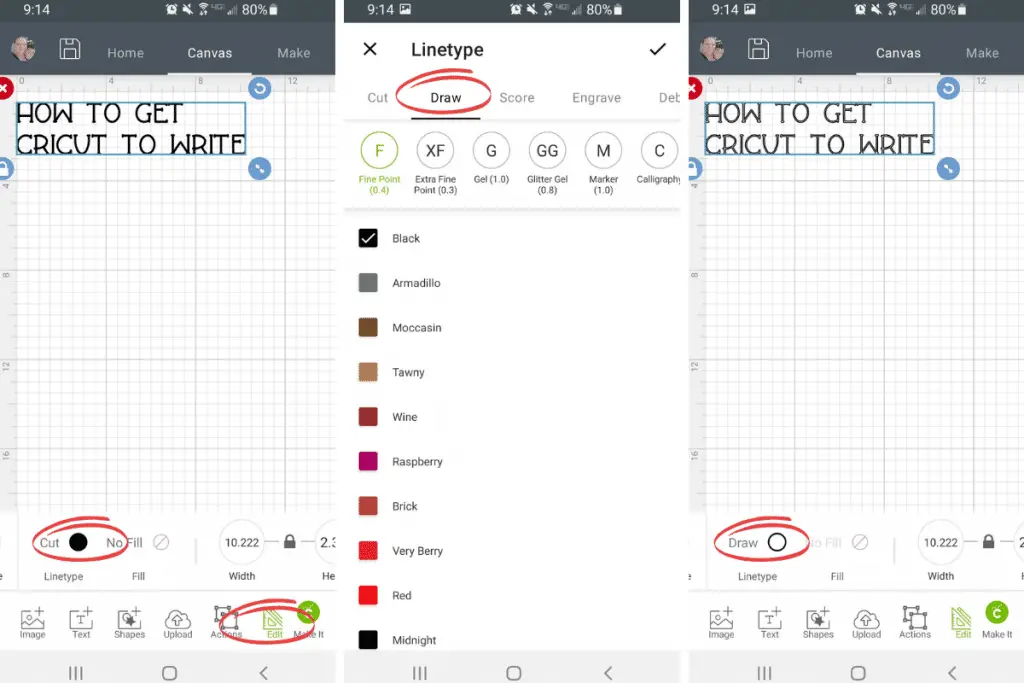 How to Draw with your Cricut?
To draw with your Cricut, select the item you'd like drawn and change the operation to "Pen" under "Draw", just like you would to write text. Some images you can change different portions of the drawings to different colors. Others, you must draw all in a single color. Same as with text, the Cricut doesn't actually fill in any text, so it only outlines the drawings. Once you change the operation to draw, you can see on your canvas what the image will look like.
Different Types of Cricut Pens
I primarily use the Cricut Ultimate Fine Point pens, but also use Metallic pens from time to time. I've had great luck with Cricut pens. I know there are a lot of people out there that find ways to adapt and use all kinds of pens in their Cricut, but for the amount of time I read, spending the $20ish dollars on the fine point pen set will last me a long time! Cricut themselves offer lots of options that easily snap right into the machine.
Wrap Up
If you liked this post, it would mean a lot if you would follow me on Facebook and/or Pinterest.