How to Display a Shadow Box?
As an avid crafter, I love making shadow boxes. But, how do you display them? Here are some ideas on how you can display a shadow box.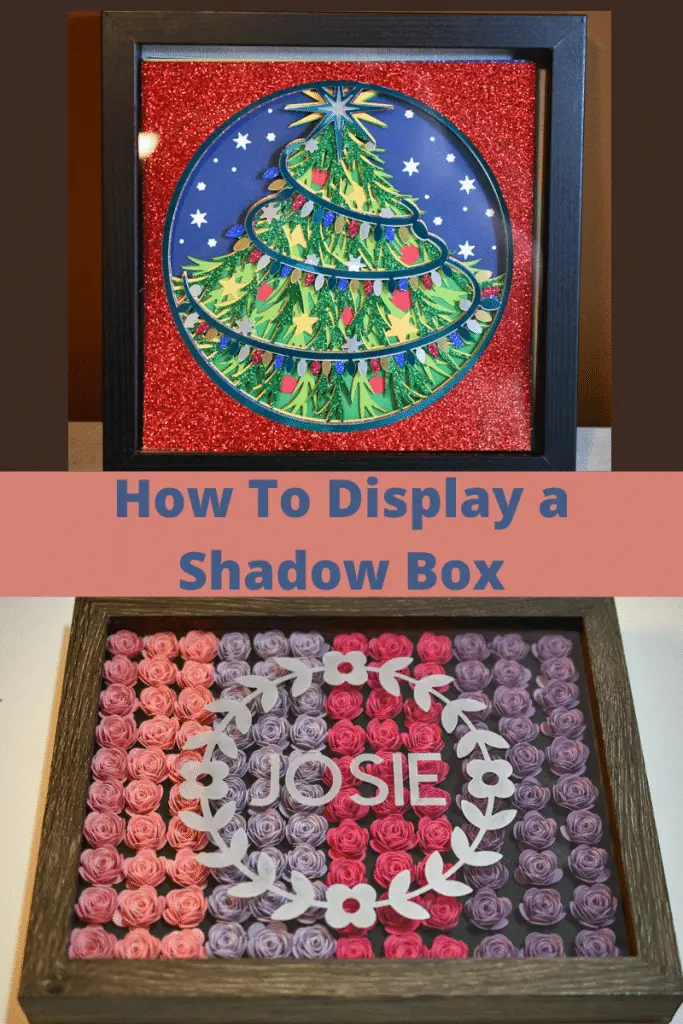 This site is a participant in the Amazon Associates program, as well as other affiliate programs. As an Amazon Associate, I earn from qualifying purchases. This post may contain some affiliate links for your convenience.
Shadow boxes are a favorite of mine to make, but was looking for more ways to display them. So I racked my brain and the web to come up with some ideas on how to display shadow boxes.
Hanging Shadow Box on the Wall
This is the obvious answer on displaying a shadow box is to hang the shadow box on the wall. Most shadow boxes come with hardware installed on the back. Most make it very easy to hang either vertical or horizontal. But you should check the shadow box before buying if this is what you plan to do. If your shadow box doesn't have hardware, I did purchase this hardware kit I use for canvases that has a variety of picture hanging hardware that has come in quite handy! You can use a standard nail/screw to hang. Or you could use command strips. These command strips on Amazon hold up to 16lbs, which should be more than enough for any typical shadow box.
Using Decorative Chains to Hang a Shadow Box
Hanging on the wall, but with a twist. To change things up a little bit, you could apply a decorative chain or twine to the back of your shadow box to hang on the wall. This decorative chain one on Amazon would be nice, and you could use some D-Ring hardware on the back to attach. Will depend on where you are hanging it, how much it weighs, etc.
Or you could actually buy a shadow box that already has unique hanging software included. For example the shadow box below comes with twine already installed as hanging hardware.
Displaying a Shadow Box on a Floating Shelf
Adding a shadow box to a floating shelf can give you that same feel of hanging it on the wall, but with a twist. It can make it easier to switch out shadow boxes for different holiday displays or special occasions. You can also set a "stage" for your shadow box with different items placed around it on the shelves.
Displaying on Furniture
Another somewhat obvious method of displaying a shadow box is simply looking around at the furniture you have, and seeing where it may make sense to place one. Dressers, book shelves, desks, tables, etc. around your home may make a great place to display your shadow box. Just like displaying it on a floating shelf, you can add items around the shadow box to make it fit in with your decor.
Crating Unique Non-Traditional Shadow Boxes
Trying to think outside the box when creating shadow boxes. Some ideas I've found are:
Creating a shadow box out of a coffee table. If you have a coffee table with a glass top/storage area ( kind of like this one), you can create your shadow box idea right inside of the coffee table. If you're really crafty, you could make your own coffee table display.
Similar to a coffee table, smaller end tables could be made into unique shadow boxes for an interesting display
Ourcraftymom.com created a unique shadowbox table out of a piano bench. So thinking outside the box to repurpose furniture you have or find into shadow boxes is a great option!
Wrap Up
Hopefully this gave you a few ideas on new ways you can display your shadow boxes. If you think of something I have missed, I'd love to hear about it! If you liked this post, it would mean a lot if you would follow me on Facebook and/or Pinterest.