What Can You Do With Paper Flowers?
I have a Cricut and I love paper flowers – they are so relaxing to roll, and fun to make. In fact, being able to make paper flowers is one of the main reasons I purchased the Cricut. But once you make all these paper flowers, what do you do with them?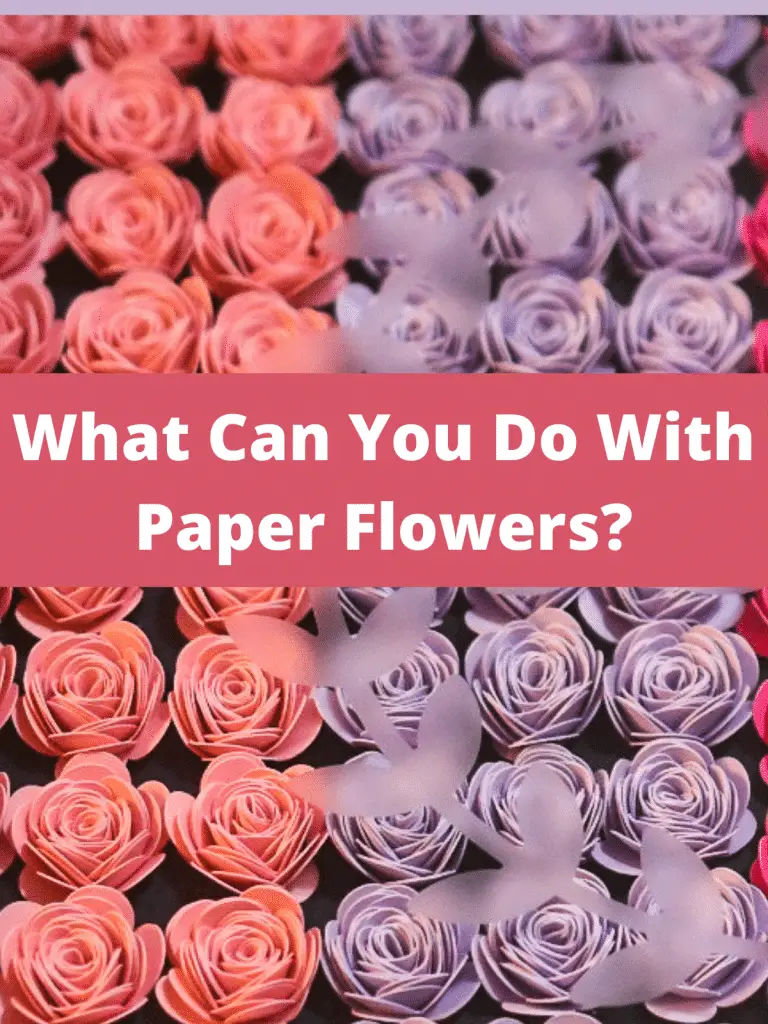 Here are some ideas if you're a paper flower lover like me on things you can do with them!
Before we get into it, if you're looking for the best paper to make paper flowers (in my opinion) it is Recollections Medium Weight Solid Cord Cardstock – which can be found on Amazon in many colors, to create whatever your heart desires!
This site is a participant in the Amazon Associates program, as well as other affiliate programs. As an Amazon Associate, I earn from qualifying purchases. This post may contain some affiliate links for your convenience.
Paper Flower Shadow Box
A paper flower shadow box will be a great gift or something you can make to decorate your home. I made the shadow box below and etched the glass to decorate my daughter's nursery. It was such a fun project, and I smile every time I walk into her room and see it! I used Cricut design space to select a flower, rolled them all up and glued them (the best glue I've found is: Art Glitter Glue). Glue them to the cardstock in the back (the black you see) and place in the shadow box. I then use Armour Etch and Rub N Buff to decorate the glass. It was a very fun and project that really opened my eyes on how fun both paper flowers and glass etching can be!
You can see more about how I made it here: How to Make a Paper Flower Shadow Box
Paper Flower Canvas
Another great option for using up paper flowers, is creating decorative canvases. You can paint the canvas or use your Cricut for creative for SVGs to create a design out of vinyl to apply to the canvas. The great thing about this idea, is that you can do it in a lot of sizes. The Dollar Tree around here even sells canvas. So this can be really cost effective.
Below, you'll see an adorable canvas created by @madebyjesslee on Instagram. I love the bright colors of the flowers on the white canvas. The 3D pop of the flowers in addition to the flowers makes this very cute! I am going to take inspiration from this and come up with something to decorate my office with some of the spare flowers I have laying around!
Paper Flower Bouquet
Another way to use up paper flowers is by creating a paper flower bouquet. With a few paper flowers, a few steams cut out, and maybe some other embellishments – you have a bouquet that will never die.
The paper flower bouquet below by @pinatasbyabby on Instagram is very cute. The use of the paper flowers, leaves and tissue paper created an adorable bouquet. It sits on a base that looks to be made out of cardstock. I have also added this to my list to create and use up some more of my spare flowers laying around.
Paper Flower Embellishments on Cards
If you have a Cricut or other cutting machine you're using to make paper flowers, you're probably also making cards (or able to). Embellishing a birthday card, get well soon or a just because card is a great option. Especially if you're making cards you can coordinate your colors and create a lot of different options for yourself.
Below is a great example of this from @craftsella01 on Instagram. They created a create friends forever card in honor of Friendship day. I love the use of twine to make the bow. The next time I sit down to make a card, I will definitely have this in mind
Paper Flower Back Drops
If you make larger paper flowers, people make gorgeous backdrops with paper flowers. I've seen pictures of people putting paper flowers on archways, just a small section of a wall or a huge back drop creation like the picture below from @bulanblooms on Instagram.
Creating these backdrops can make a great statement piece as decoration or can create a fun photo opportunity for an event. If you're a small business, by creating a place where guests can take photos and post to social media can help with a grass roots advertising campaigns. I have not made one of these large paper flowers yet, but I see one in my near future!
Paper Flower Graduation Cap
Another beautiful idea to use paper flowers is decorating a graduation cap like in the below picture from @prettyladiescreations on Instagram. This bee themed cap is so adorable. They including beautiful embellishments on their camp including paper bees and beads. After graduation, this is something that can be kept on display – and is much more satisfying to look at than a framed diploma (in my opinion of course, I couldn't tell you where my diplomas are – in a box somewhere)!
Paper Flower Centerpieces
Another great option for paper flowers is creating centerpieces. By using some staple craft room supplies, you can create your own centerpieces.
The example below is a beautiful option from @paperflowershop209. Using pink, blue and white paper flowers created a beautiful centerpiece for a baby shower.
These could also be used to decorate for DIY weddings, family get togethers, birthday parties, etc. You could also reuse the same bouquets by simply changing out the "Oh Baby" embellishment to whatever the occasion is.
Flower Domes
One last idea, that gives off awesome Beauty and the Beast vibes are paper flower domes. You can embellish the dome, add lights, and decorate however you'd like. The beautiful design below from @yesidesigns on Instagram can definitely get the juices flowing.
I found this dome on Amazon that with some paint and some lights, you could quite easily replicate the design below. Or this dome on Amazon which actually includes the lights! This could make for a great mother's day gift, maybe a teacher's gift or if you have a kid that loves Beauty and the Beast! So many different ways to personalize and create a beautiful gift.
Wrap Up
If you liked this post, it would mean a lot if you would follow me on Facebook, Pinterest, or Instagram. If you use #handcraftedhomegrown on Instagram, I'll be watching! 🙂
It would really help me if you pinned this post on Pinterest! Thank you!