Can You Etch Glass with Vinegar?
Etching glass is probably my new found favorite way to craft. But can you etch glass with vinegar?
Vinegar cannot be used to etch glass. Vinegar does not contain any ingredients potent enough to etch glass. Keep reading below and we will discuss what vinegar does to glass and some really easy ways to you can etch glass without vinegar.
Did you know they make vinegar just for cleaning? Here is one from Amazon.
To see my favorite products to etch glass click here: Glass Etching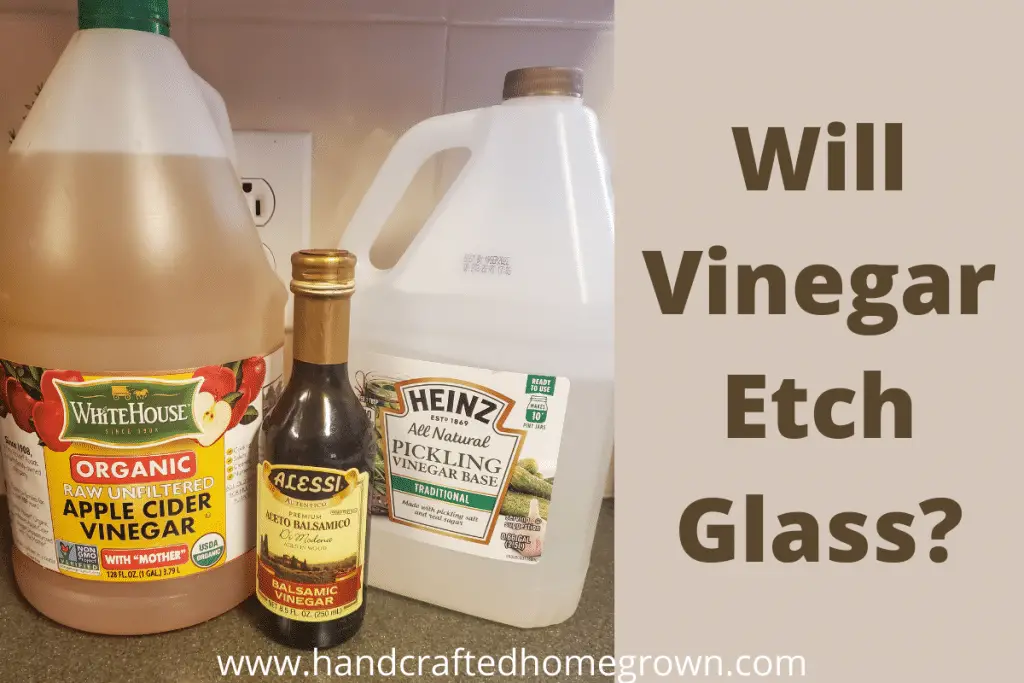 This site is a participant in the Amazon Associates program, as well as other affiliate programs. As an Amazon Associate, I earn from qualifying purchases. This post may contain some affiliate links for your convenience.
Does Vinegar Etch Glass?
As mentioned above, vinegar does not etch glass. Vinegar contains acetic acid, typically between 5-8%, and is actually used by many to clean glass. However, if the glass is very old, and the vinegar is very strong, there is a chance that the glass could be etched. So, like with any project you do, especially with an antique, it is best to test a small area before going all in on applying the substance.
Vinegar is a powerful cleaning tool that many people use to clean glass, windows, clothes, coffee pots, etc. When I was a kid I remember many people using a solution of equal parts water and vinegar and newspaper to clean their windows. At that time newspapers were more readily available and this was a great way to get additional use out of the paper when you were done reading it. However, with newspapers becoming more and more obsolete, this method of cleaning has become outdated!
What Surfaces Should Not Be Cleaned With Vinegar
While vinegar will not etch glass, there are still some surfaces that should be avoided:
Antique, non-modern glass – as the acid in the vinegar may be strong enough to damage
Natural Stone surfaces:

Granite or marble countertops
Stone floor tiles
For more info on what can and cannot be cleaned with vinegar – see this article from Good House Keeping.
What Products Will Etch Glass?
If you were hoping vinegar would etch glass, there are some other products that you can use to etch glass that are very simple and will do a nice job. Both of these options are for small areas.
Glass Etching Cream
My go-to method to etch glass, is using Armour Etch. This is a very simple etching cream that you "paint" onto the glass, let it sit for a few minutes and rinse off. Anywhere where the Armour Etch was in contact with the glass becomes etched. You can see a detailed how to on that works here. There are alternative etching creams out there, but I've only tried Armour Etch. Be sure to read the safety instructions with included on your etching cream. It contains acid, and using appropriate safety materials are necessary.
Glass Etching Tool
Another method I've never used is using an actual engraving tool. Almost everyone I've seen on Amazon has mixed reviews in terms of how much people like it. But it might work for you, so something to consider!
Alternative Methods to Achieve an Etched Glass Appearance
If playing with acid or an etching tool doesn't really meet your objectives or you're looking to "etch" a large area, you could like at some faux glass etching options.
The use of privacy window film to create the look of glass etching. This is great for doors or windows you'd like that frosted look here. Available on Amazon here.
Rust-Oleum has a spray paint that has a frosted appearance. Available on Amazon.
Wrap Up
If you liked this post, it would mean a lot if you would follow me on Facebook and Pinterest.