Best Glue for Cricut Projects
You have your Cricut, its time to start cutting and crafting! But what glue should you use for your Cricut projects. Well, to save you some time, trouble and money, I'll give you what I've learned from spending way too much money on glue to find something I like – who knew!
Generally speaking, I've found the best three adhesives to have in my crafting tool box are Art Glitter Glue, adhesive foam tape and a hot glue gun. These are the basics that can get you through cardstock projects, cards, and canvas projects.
Read on for a little bit more about each and which projects they are good for!
This site is a participant in the Amazon Associates program, as well as other affiliate programs. As an Amazon Associate, I earn from qualifying purchases. This post may contain some affiliate links for your convenience.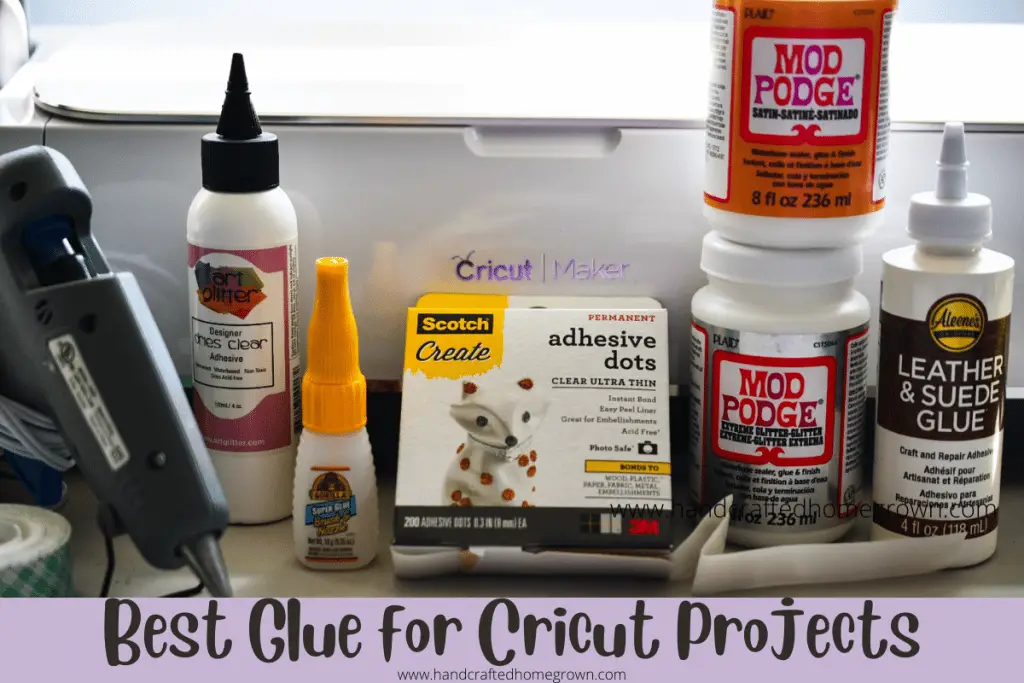 Best Cricut General Cardstock Glue & Paper Flowers – Art Glitter Glue
Art Glitter Glue is my go-to for cardstock projects. While there is glitter in the name, the glue itself does not have any glitter. This is NOT the glue you're thinking of that is like pink or green and filled with glitter. This has no glitter, it dries quickly, clearly and is great for rolled paper flowers.
When I first started doing Cricut projects, I spent so much money trying to find the right glue. This glue was recommended to me in a Cricut group and I've never looked back! I was using super glue – which was actually resulting in me gluing my fingers together – whoops. I also tried using my hot glue gun, but with two little kids running around, it limited my time to be able to do it safely. The hot glue gun is a good alternative though, if it works or you!
Art Glitter Glue has been one of the best purchases I've made for Cricut crafts. I used it for my rolled flowers, card making and layered cardstock projects!
You can find Art Glitter Glue on Amazon here.
Cricut Cardstock Cards and 3D Projects – Adhesive Foam Tape
When making other types of cardstock projects – like 3D shadowboxes or Cricut cardstock cards, you might want something with a little volume! I use a combo of adhesives in 3D cardstock boxes like the one below. I use:
First, to add space between the layers – I use a double sided adhesive foam dots – like this one on Amazon. I have also bought something similar at dollar tree!
You can also find double sided-foam tape that you can cut to shape yourself. Here is some on Amazon, but if you keep a look out, you might be able to find something similar at Dollar Tree.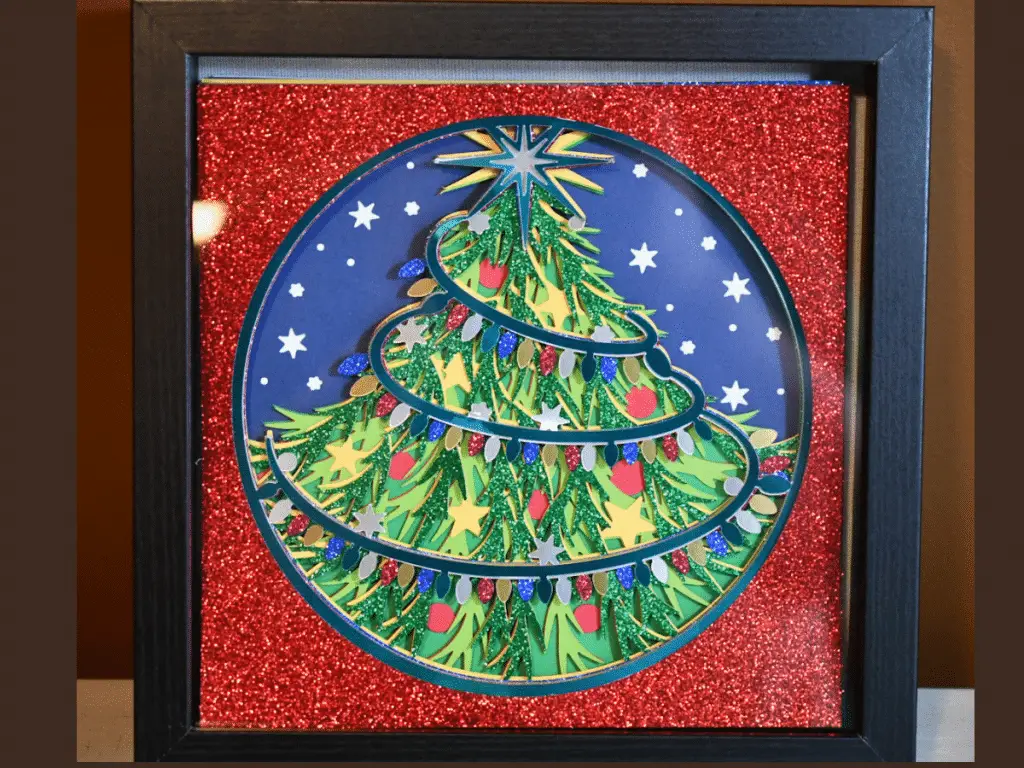 Cricut Reverse Canvas – Hot Glue Gun
Reverse canvases are one of my favorite projects. To make these projects you need to remove the canvas from the frame, and then reattach. I really have found hot glue guns to be the best choice for this project. Some people may staple them back on or use other methods of reattaching the canvas. However, the hot glue gun is easy to use, only takes a few minutes to warm up to be ready to go. Hot glue guns vary in price and functionality. I use the most basic version, cheap version – because I don't use it too frequently and its never been important for me to upgrade. There are really fancy cordless ones that people love! So if you use them a lot, or know someone who does, it would make a great gift. I would never buy one for myself, but I would not be mad if I got one as a gift!
Here are a few options on Amazon, from basic to "fancy".
You might also like: How to Create a SVG from a Photograph
Faux Leather Circut Projects – Leather & Suede Glue
If you like to use leather or faux leather in your Cricut projects, I've had a great experience with Aleene's Leather & Suede Glue. I used faux leather to create earrings last Christmas, and after failing with a few other types of glue I purchased Aleene's. I was super happy with this product and highly recommend to others.
Mod-Podge – Another Great Buy
Mod Podge is another option your Cricut Projects Tool Box to use as a glue or sealer. You can find the product on Amazon here. I've primarily used it as a sealer. I've used the Glitter Mod Podge for sealing homemade Christmas ornaments, and I really loved how it came out.
Other Glue People Recommend
These are glues that other people recommend and rave about in Cricut crafting groups, but that I haven't tried yet. I've been very happy with what I finally found – but might try a few of these if I find a good sale or when its time to restock in the glue department!
Zig Glue Pens – these can be found on Amazon here. This is on the top of my list for the next type of glue to try. It comes highly recommended and looks so simple and convenient. This is another great option for cardstock projects.
Bearly Art Glue – can be found on Amazon here. This is another highly recommended glue for cardstock projects. This was the next in line glue purchase for me if the Art Glitter Glue didn't shake out. There are still many dedicated Cricut crafters who loves this glue. So it is on my list to try someday!
Wrap Up
If you liked this post, it would mean a lot if you would follow me on Facebook, Pinterest, or Instagram. If you use #handcraftedhomegrown on Instagram, I'll be watching! 🙂
It would really help me if you pinned this post on Pinterest! Thank you!